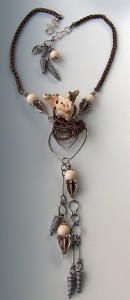 I am an avid collector of
Robin Poff's
dragon beads; they are special, sculptural and big! They each have their own personalities. I have spent alot of time working out how to mount them so they can be used in jewelry. You can see one example on my home page
here
. The spring issue of
Belle Armoire Jewelry
has an article I wrote called
Engineering Sculptural Lampwork
that gives directions for a wire based frame.
The article includes instructions for making this necklace.
I like to use lampwork with wire because they work so well together. The lampwork accomodates the wire and makes a bold statement. The challenge can be engineering the piece so it is not too heavy. Here are three suggestions to manage the weight:
1. Make sure the heaviest part rests on the center of the chest, just below the collarbone.
2. Include a counter balance, I use several beads at the end of the series of links attached to fasten the piece. This falls down the wearer's back creating weight in the back that offsets the weight from the front. Bonus! if you wear your hair up, you are adorned going as well as coming. I first read about using a counter balance in a book by
helen deitze
.
3. Compensate for the heavier beads and wire by using lighter beads and pieces where possible. I am fond of vintage Lucite beads and they often find their way into my designs. Resin, horn, filigree findings, or whatever you have in your stash that works with the design.