I use lots of lampwork, artist made glass beads, in my jewelry designs. This Friday I got to see a trunk show of Luigi Cattelan's work at Creative Castle in Newbury Park, California. Their entire classroom is filled with beautiful, unique glass beads and jewelry.
The short version is much of glass bead making was invented and perfected in Italy. In 1291 the glass factories of Venice were moved to the island of Murano to contain the fire hazard and better protect the trade secrets and glass-making techniques. Beads were used for trade all over the world and in the 1500s the exchange rate was 1 to 1000, so even then the price of beads was dear!
Luigi's father owned a glass factory where Luigi worked until it closed. Then he worked at one of the oldest factories still in operation until it closed in 1992. From there he started to make his own beads, especially chevron beads, which he makes them in the traditional Venetian method
Luigi Cattelan artist profile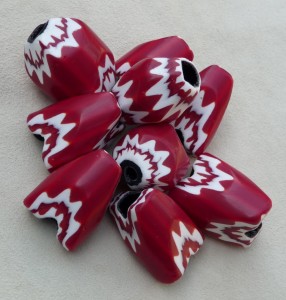 I purchased these yesterday – they are the last of the red and white chevrons from a production run in 1994. Big and bold with a soft, semi-matte finish – they are substantial in your hand and dramatic to the eye.
And if all that was not enough… he has with him some amazing bead history that I got to see up close and personal. Bead cards used by traders to show their wares and bead trim samples from a the late 1800s stiched to a cloth with the orignal tags and numbers for customers to view and order. The beads we love thread back through history and have been dear to the human race for centuries.
You can see Luigi and his beads at Creative Castle through Sunday. He is going on to the Tucson shows and to some other locations in the US. Look for him! His work is exciting and the sense of history and care for those who have come before is palpable.