Short on time and energy to create?
In order to manage my urge for shiny, new projects, I turn to Pinterest, a social media platform where users "pin" pictures on virtual bulletin boards and collect eye-catching images based on themes. I get creative inspiration there without adding to my stash!
So far, my creative focus this year has been fabric-oriented, so I thought I'd share with you some of my Pinterest inspiration boards, and the creativity it's sparking in my art jewelry.
Quilting!
You might remember that last year I took an advanced quilting class that had me crazy with 40-piece blocks and matching points. I kept up, but it was so detailed!
This year, I thought, "Enough with the blocks already, let's MAKE something!"
One of the simple things I started was a rug. Using a jelly roll of 40"x2.5" fabric strips, I've been sewing lots of lengths of them end to end with a diagonal seam. You end up with long strips that are sewn together to make a big rug. It's the exact opposite of those fiddly quilt blocks with angles and measurements because you can just sew and sew and–like nothing–you have a finished project. I was excited to do it!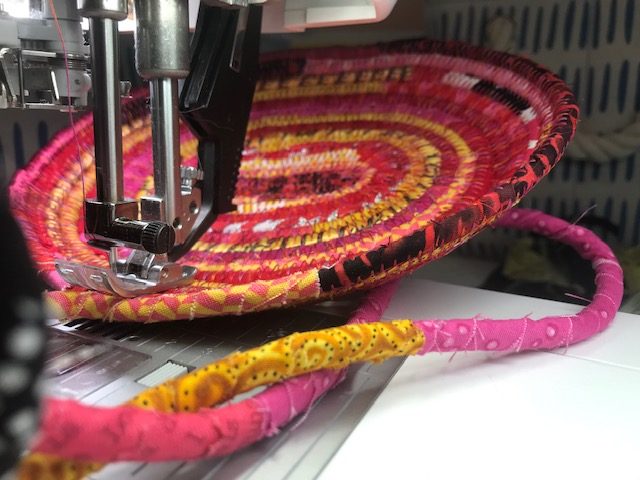 Of course, my sewing machine blew up in the middle of it, and I decided, "Nuh-uh. I'm not dealing with that."
But I found the Goldilocks of fabric projects—a little bit fussy, but intriguing enough to keep going and see how it will turn out. All the little 90 degree triangles—the scraps cut from each of the long strips in lots of colors? Using a square up ruler to make 2 inch squares, I started sewing them together. All these little squares from this silly abandoned project!
Along with the squares, I have been sewing "mile a minute" scraps, partial blocks and pieces into fabric. If you look up the mile a minute technique, you just chain piece scraps, cut them to make straight edges and chain piece again. Random, lovely and so fun—now what to do with the fabric?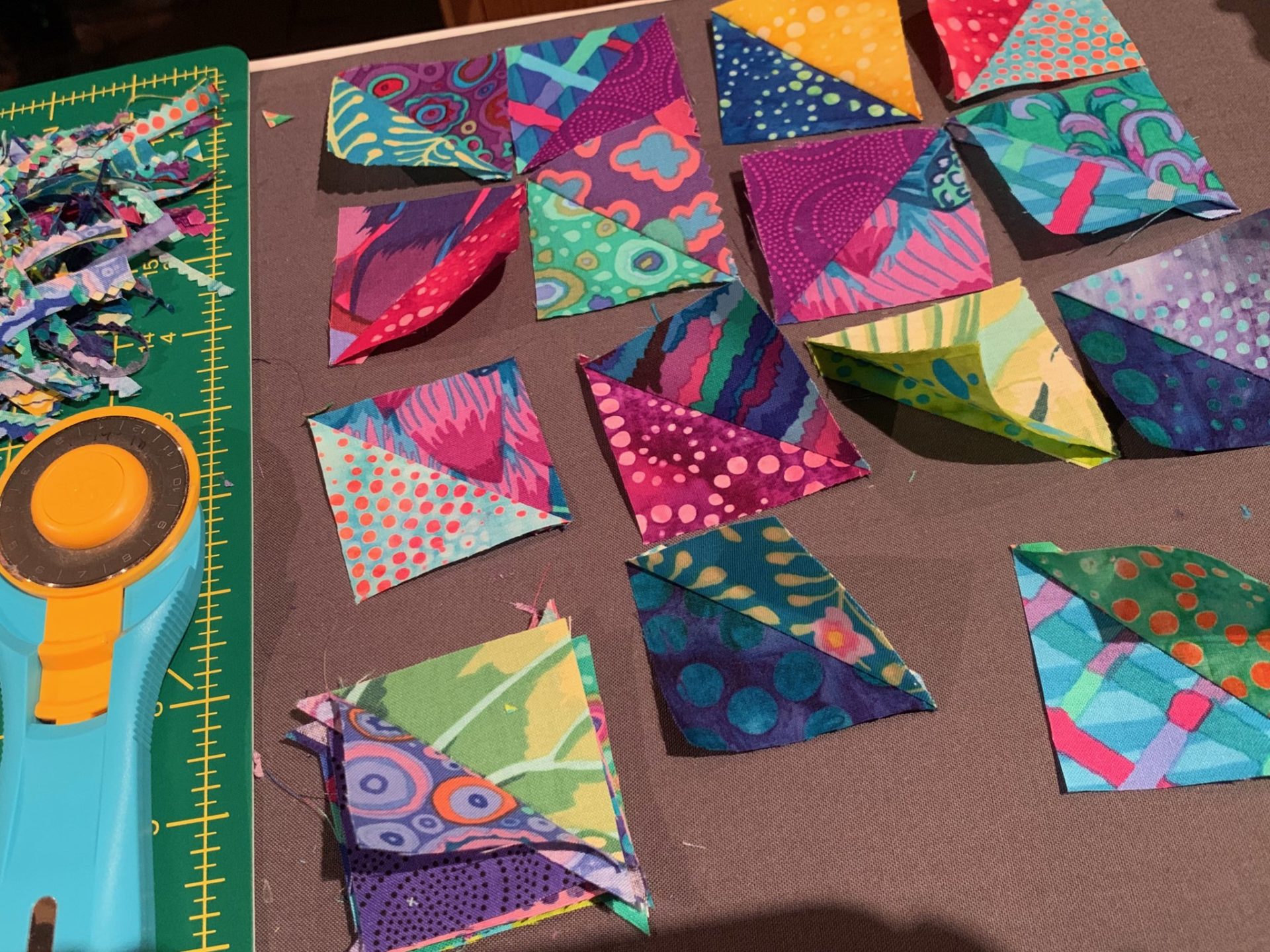 I just have to laugh because I didn't make the rug that was supposed to be so easy, but I'm sewing the abandoned scrap ends together. Finishing is no fun, but new is LOTS of fun. It's the reason why I try not to leave stuff for my future self because I'm not a good finisher. What I want to do is something new.
Pinning quilts
So, I pin quilts on Pinterest guilt-free because I may never start or finish them, but it keeps me from having more stuff in my studio. My category is called "quilts various" and has art quilts and freeforms that I think are gorgeous.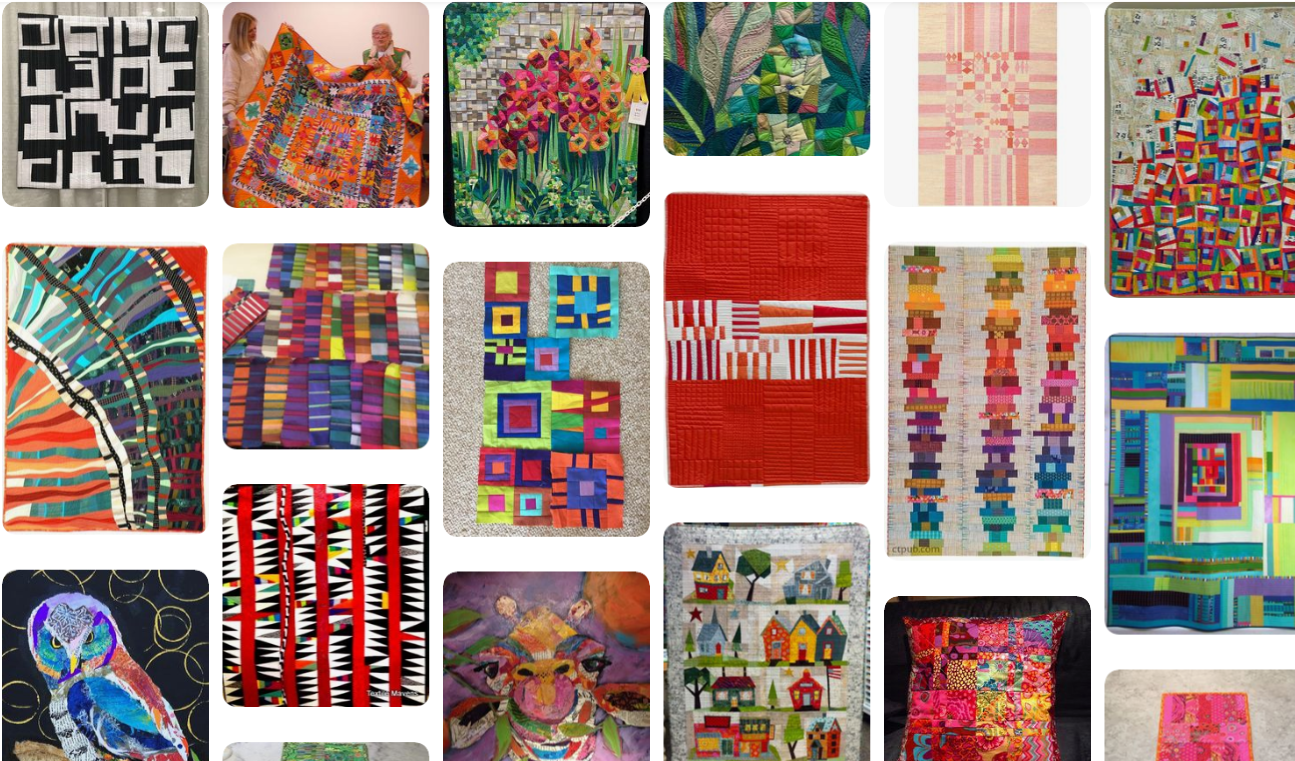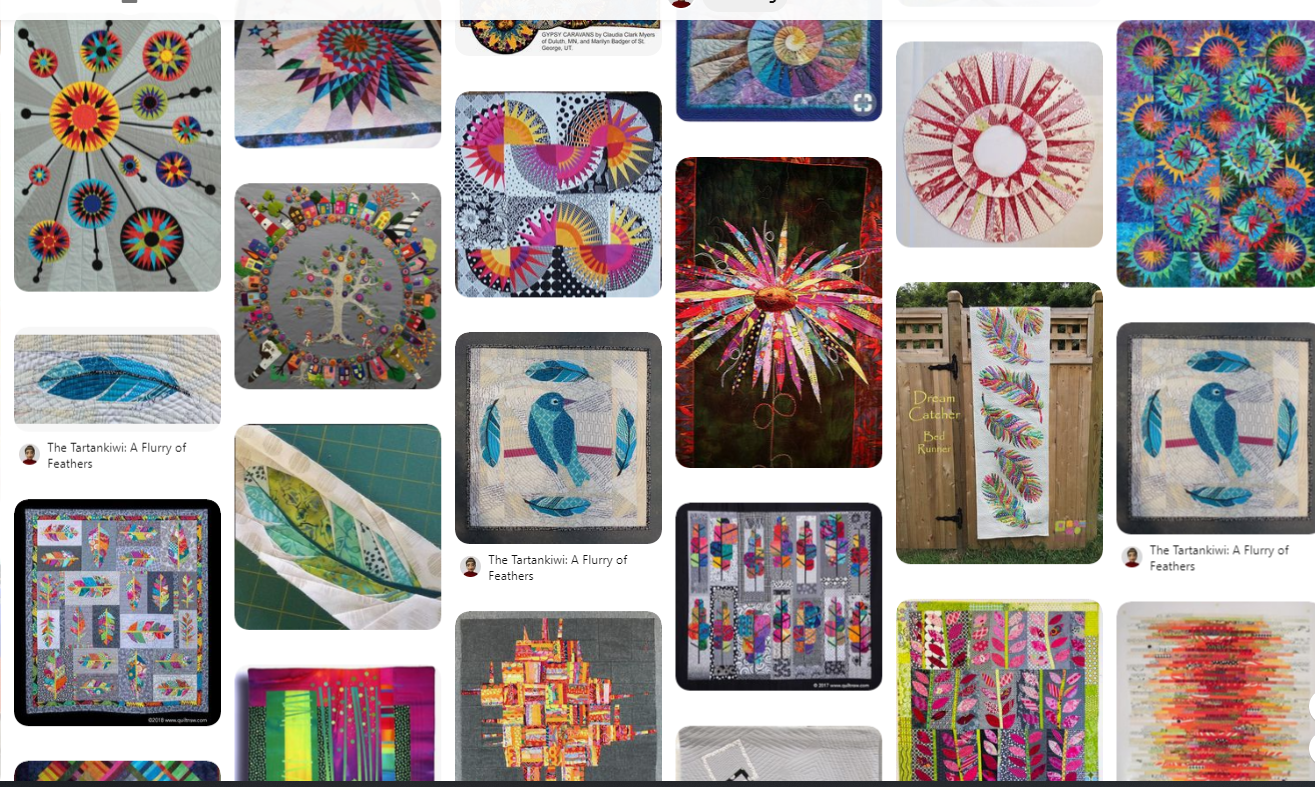 Steampunk and lace!
Another board I call "fantasy fashion" which has all kinds of whimsical costumes, designer garments, and steampunk clothing. Every time I see something gorgeous, I have the same two thoughts:
a. I'd really like to wear this outfit… 
b. Where in the heck am I gonna wear it?
So my solution is to I add it to my fantasy fashion board, and it makes me happy!
Denim!
My pin board for this category is Demin—Damn! where I collect images of creative projects and fashion using and upcycling everyone's favorite faded blue fabric. In reality, denim is either too hot or too cold, or too heavy so I may never actually make things like this. However, I love the hippy vibe of the patchwork skirts and elaborately embroidered jackets. They're definitely fun for my bohemian heart.
Fine jewelry!
I have to face facts that I live on a working farm and am often called to play cowgirl when our bovine ladies need medicine. I'm never going to wear big, sparkly rocks on muddy hands.
I created the pinboard "Mixd gems" to pin all kinds of fine jewelry, diamonds and emeralds. It's such eye candy! And I love that I can dip my toe into the glamour.
Wire art!
Although I believe it's unethical to copy someone else's design, I love to pin other artists' small-gauge wire for inspiration. There is a spark that comes from seeing what others make. Sometimes I'll marvel at a particular curve or the way wires come together or the angle of an offset shape. Some element of a piece will make me say wow that I might incorporate it in my own work, riffing (like scat in jazz) on these unique elements. 
All this inspiration
When I finally get back to my bench to do some wire work, I have so many ideas I want to bring to life! In the meantime, feel free to follow me on Pinterest to see more of these fun, curated boards!