From bead dreams to art realities
Last year, I was really excited to submit my work to the annual Bead Dreams competition, part of the one-and-only national Bead and Button Show.
This year, for contrast, I'm reminded of the two most challenging parts of being an artist: 1. being judged, and 2. comparing your work to others. It's on my mind a lot as my submission for the 2017 Bead Dreams competition comes together.
The mind of an artist
Honestly, this is the part of art-making that people don't see when they look at a finished piece. We wonder: Is it good enough? Is it me enough? Is it what the judges will like? How will it compare to all the other submissions?
What I've learned over the years is that you can't focus on these questions. You almost have to pretend none of that exists so you are free to create what wants to come from your muse.
Art as a practice
This reminds me of a story I learned during my year-long art masterclass:
A pottery teacher split her class into two halves.
To the first half she said, "You will spend the semester studying pottery, planning, designing, and creating your perfect pot. At the end of the semester, there will be a competition to see whose pot is the best".
To the other half she said, "You will spend your semester making lots of pots. Your grade will be based on the number of completed pots you finish. At the end of the semester, you'll also have the opportunity to enter your best pot into a competition."
The first half of the class threw themselves into their research, planning, and design. Then they set about creating their one, perfect pot for the competition.
The second half of the class immediately grabbed fistfulls of clay and started churning out pots. They made big ones, small ones, simple ones, and intricate ones. Their muscles ached for weeks as they gained the strength needed to throw so many pots.
At the end of class, both halves were invited to enter their most perfect pot into the competition. Once the votes were counted, all of the best pots came from the students that were tasked with quantity. The practice they gained made them significantly better potters than the planners on a quest for a single, perfect pot. (story source)
As an artist, I have to remember that I have a choice between worrying about making the perfect piece, or focus on making as many as I can. In the end, I only need one perfect pot. At this point, I've created six tiaras and two bejeweled combs.
If I want to make myself happy (and less crazy), I'll keep making lots and enjoy the process of learning and experimenting with many techniques and materials.
Focus on the dream
Despite my nerves, I force myself to stop thinking, "But it's Bead Dreams!" I have to stop pressuring my work to be bigger, better, or fancier—and just make it. Just pick up some wire. Just make another tiara.
The best way to make great art is to allow myself to play, to try things and see what happens. Just go for it and see. There's a click at some point. That's where my best work comes from, whether it gets into Bead Dreams or not.
Bead Dreams preview
Here's a sneak peek at what I'm going to submit: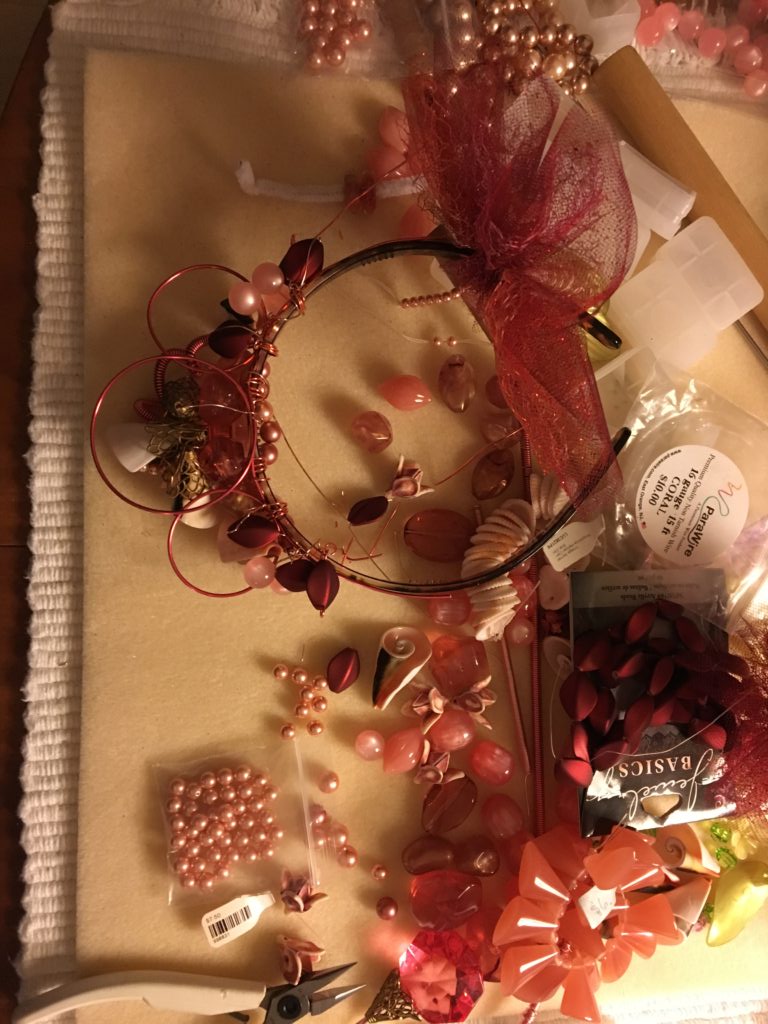 Do you create art?
What do you do to manage the pressure of having your work judged and comparing it to others?