I wear lots of hats—artist, farmer, dog mom—but this year the farm has moved from the back seat of life to the front. Correction: The farm is actually driving.
For that reason, it's remarkable that I'm still managing to work on an art piece for an upcoming show. In fact, it's one of the more fun pieces I've created in a while. I'm sharing it because it's cute and also to hold myself accountable for finishing it, no matter where the farm takes me.
A weekend with my art group
For a busy artist, there's nothing more helpful or encouraging than time away with other creative souls to get stuff done. There's fun, banter, and conversation while each person creates her own project.
When I spent a weekend with my art group recently, I started a new piece for the 25th annual Celebrate Agriculture with the Arts Show put on by the Madera County Arts Council or as we say, "the Ag Show". This is a juried show with five competition categories all related to agriculture and it even has cash prizes.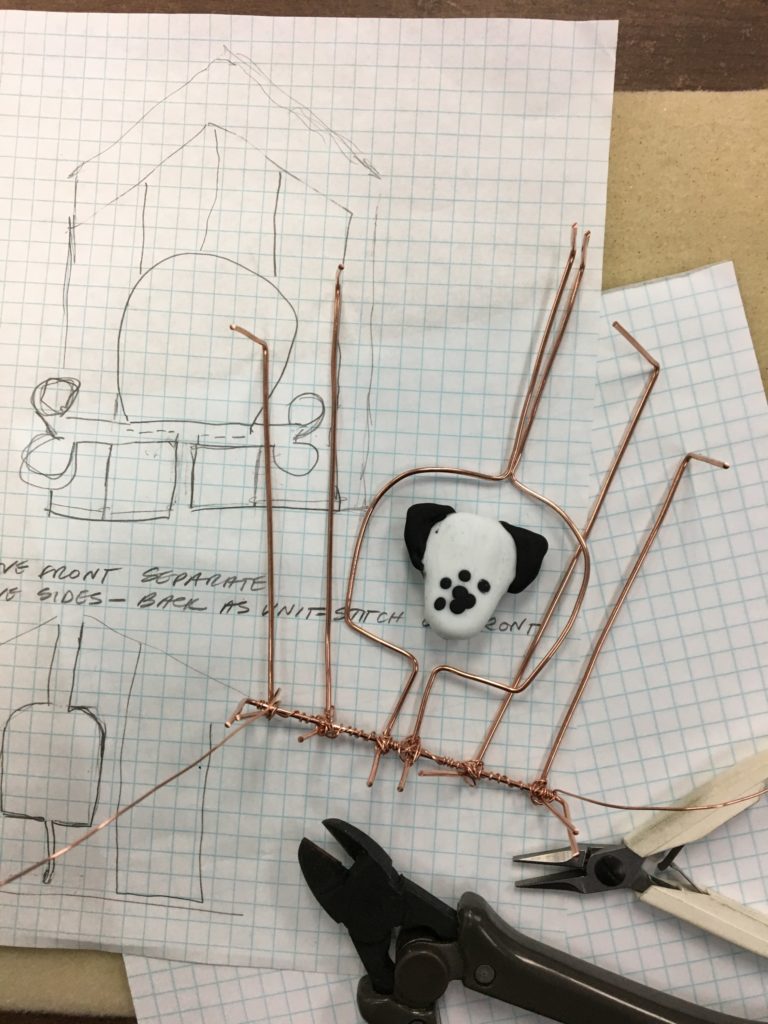 The theme is "Agriculture's Animal Friends". I imagined a black-and-white farm dog in a rustic dog house, resting in the shade. In terms of structure, my inspiration was the woven owl box piece I created for the 2017 Ag Show (recognized with an Honorable Mention and sold!), only larger and more rustic.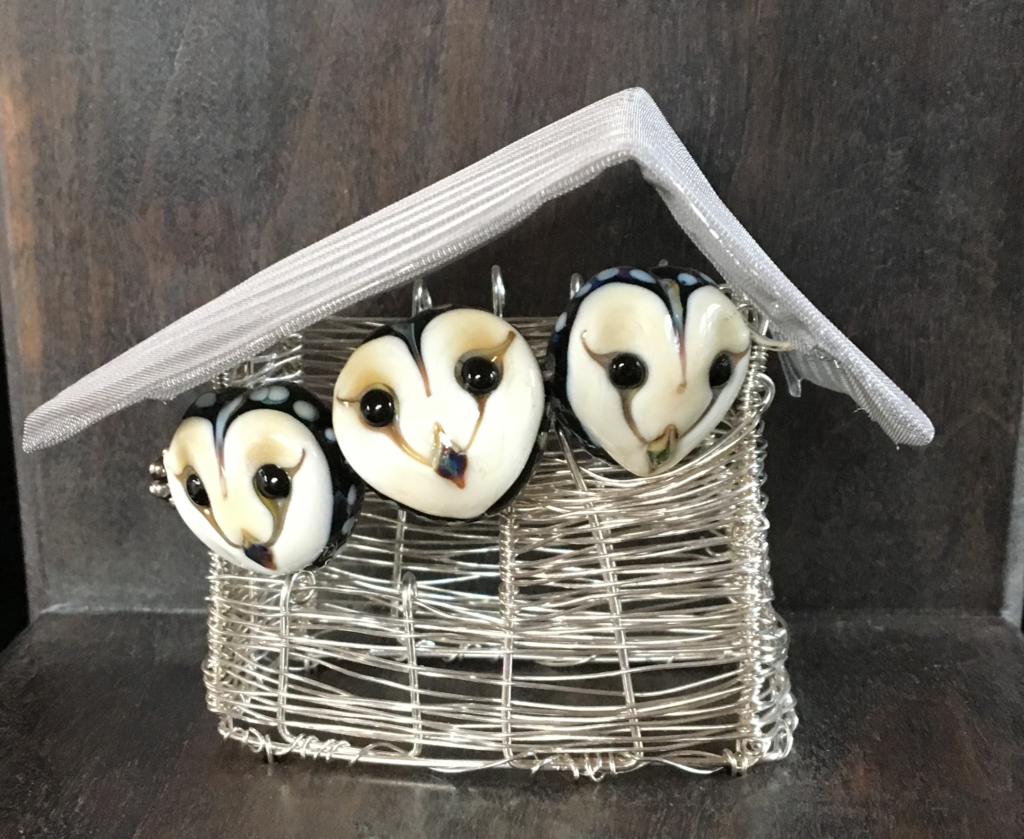 When you create art with wire, you have to think beyond its finished appearance to the sturdy internal frame on which you build color and embellishments. Not only does this piece need to stand up on its own, the doghouse itself will hold a pendant when it's not being worn. A hanging pendant needs good support, so I am considering a base of antiqued wood.
The engineering of a piece is often the biggest challenge. Creating component pieces that work together and display art jewelry for everyday enjoyment is an especially fun challenge.

The dog bead (made by the lovely lampwork artist, Tammy Mercier) will have a red collar made from wire I special ordered. I was at a local craft store when I found some really unique blue wire, but I really wanted red. Imagine my delight when an online search revealed a line of 12 colors in the same style. Eureka!
While I proceeded with weaving wire into the structure I built, it looked too fragile. I debated taking it out and redoing it, but things have a way of working out. I tried switching to thicker, 21-gauge, half-round wire. Now it looks sturdier, and the different color wires give it a rustic feel.
I created a prototype to put grass and plants in front of the doghouse. Although the copper one I created looked great, I remade it in green wire. This conveniently covers the smaller-gauge wire too. I love it when it works!
When it was time to add a roof, securing the textured copper sheets proved challenging. The doghouse has a steep peak with a lot of space between wire. Without too much trouble, I used the vertical wires to create rustic-looking nails, wrapped down even and tight.
The pendant itself will be simple with a collar under the face and a dog tag. I'm also considering paw-print earrings to complete the ensemble.
Want to see the dog house when it's finished?
Be sure to follow me on Facebook! I will submit it to the Ag Show by August 1. Hopefully it will pass the jury, and you can see it in person at the opening reception on September 13. Wish me luck!