As an artist, I know the value of community, so I've been using my blog this year to highlight local art and creative businesses in the Fresno and Sanger area. In March, I featured Kathleen Mattox, owner of art gallery, Mixed Messages Art. This month, I'm want to introduce you to an innovative local company and its owner, Kalliope Sabrina Famellos.
What is Anzula?
Located in downtown Fresno, California, Anzula produces hand-dyed luxury fibers from ethical sources. Anzula offers 25 different types of yarn—from merino and cashmere to silk and linen—in 140 colorways, shipping to local yarn shops around the US and the world.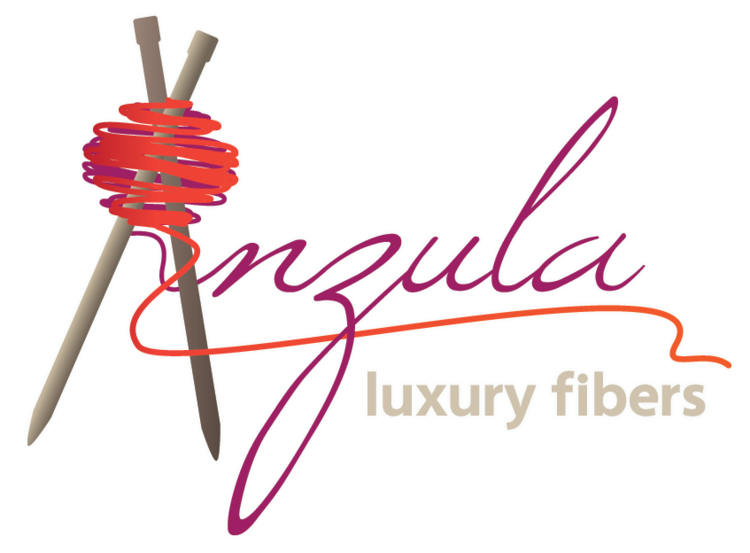 Who is Kalliope?
Anzula owner, Kalliope Sabrina Famellos, was first introduced to the world of fiber as a six year old, learning to crochet with her mother's help.
Even while working and going to college full-time, Kalliope brought along projects to keep her hands busy. Any fiber fan knows that when you work on yarn projects in public, it starts conversations. To Kallope's surprise, people started offering to pay her for what was on her needles.
Soon, Kalliope was doing booths in Bay Area farmers' and crafters' markets. When she learned to spin fiber at age 21, she added skeins of hand-spun yarn to her offerings. Then she learned to dye the fiber.
Thriving in hard times
The 2008 economic crisis brought an unexpected opportunity. While she lost her full-time job, she decided to try grow this creative "side hustle," bringing her fiber to national trade shows and yarn markets across the country—and it worked. Orders took off. Compared to many, the recession was a time of opportunity for Kalliope. She had many friends who were out of work who were willing to step in to help with this sudden influx of orders.
In the early years, Kalliope ran Anzula out of her home, which slowly got taken over by yarn—hanging to dry in the bathroom and boxes everywhere tripping her up.
Eventually, she said, "I couldn't take it anymore and started looking for a space." In its current 4,500 square foot location, Anzula employs four people full time.
How Anzula creates ethical, luxury yarn
According to Kalliope, "I wanted to create colors that could be a beautiful canvas for lace and cable stitches to shine." This is hard to find in a hand-dyed yarn which is often dyed in small batches creating great variation between dye lots. "And so I created a semi solid palette with 45 colors. We have a specific method to keep the colorways consistent. We work very hard at it."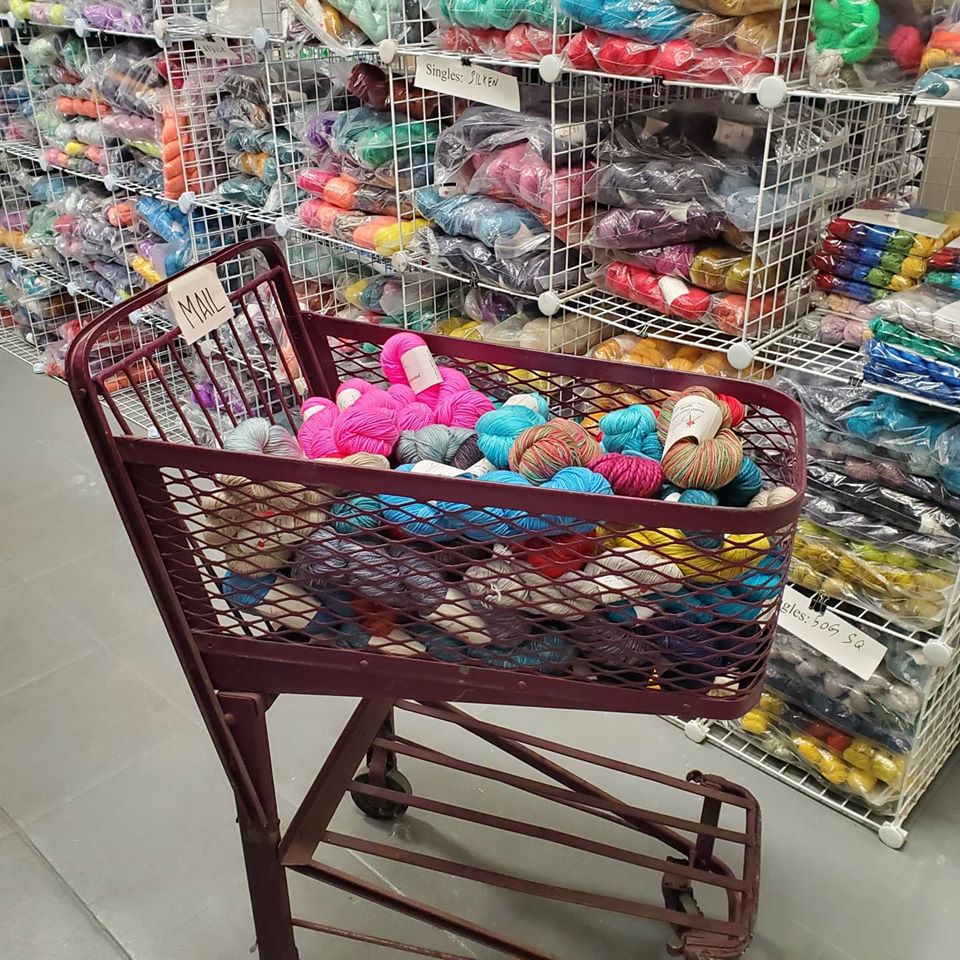 When it comes to the fiber itself, "I'm looking at certain qualities," Kalliope explained. "The less texture from twist you feel, the softer it seems. But if it's not spun tightly, it's going to fuzz out, making the garment look old and sad just moments after you put it on."
Anzula produces multi-ply yarns (most are three- or four-ply). "I want people to be able to create heirloom pieces with our yarns. I realize I've turned into a yarn snob," she laughed.
Their impact on the community and its health matters a lot to Kalliope. At the beginning, after reviewing the types of dyes available, she chose citric acid or vinegar-based dyes. "We take the environment seriously. I don't want to expose my employees or the planet to hazards."
The sources of Anzula's fibers reflect that commitment as well. Their merino wool comes from non-mulesed sheep in New Zealand (a painful practice banned in some countries). "We work with our mills to make the most ecological and ethical choices for silks and cashmere. We don't outsource labor and strive to pay our workers a living wage."
When I asked if Kalliope has a favorite colorway, she laughed. "That's like picking your favorite child!" Among her favorites are jasmine, aqua, marigold, and cedar.
"Stitch in Place"
Although Anzula sells their yarn wholesale, Kalliope decided to do a program called Stitch in Place during the pandemic. They are temporarily selling direct to customers—giving 25% of the sale to the customer's local yarn shop (which may be closed due to state orders) and 25% to non-profits of sales of their For Better or Worsted line.
"People's budgets are obliterated," Kalliope said. "So we are also offering a single skein to people for just the cost of shipping." This project she calls #StitchInPlace has been a huge success, with free skeins going as far as New Zealand and Australia.
The story gets better. "People reached out to me asking how they could cover the costs of skeins we were giving away."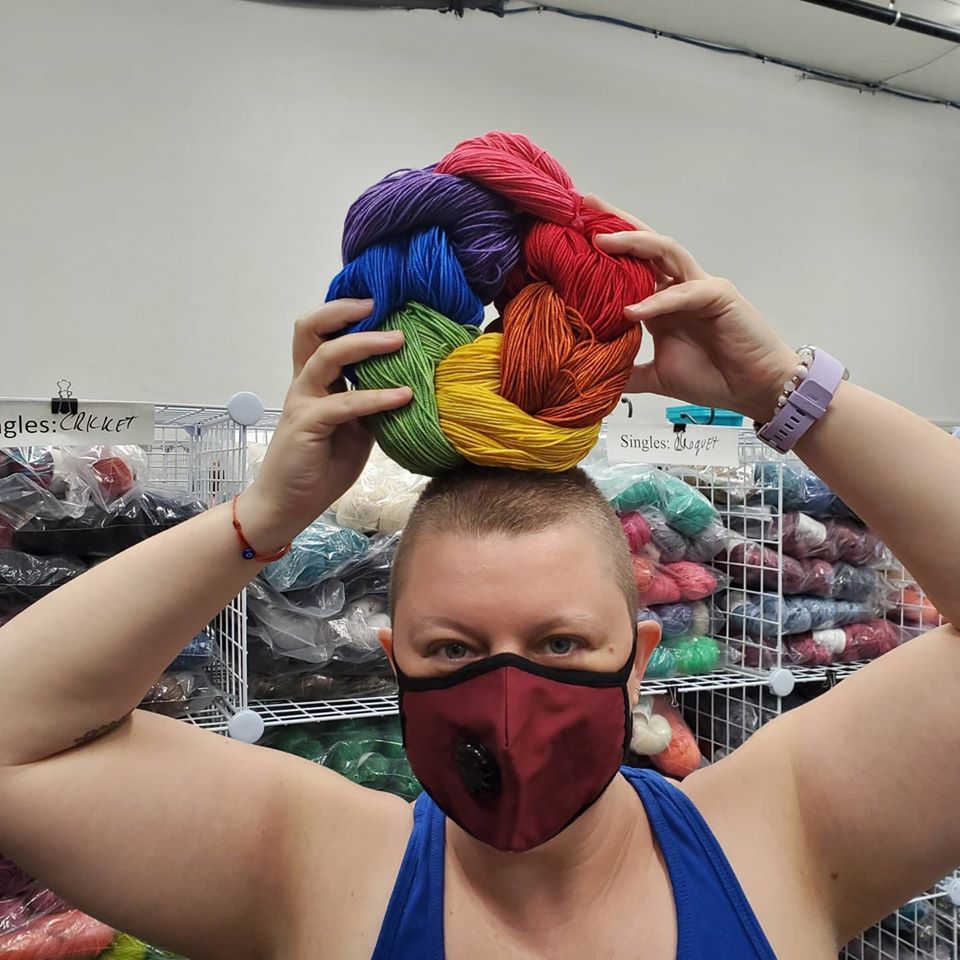 In these challenging times, it's so heartening to see this local business thrive, pay it forward, and get paid back again by caring people. As Kalliope put it, "It's a win win win."
See more Anzula
See all the gorgeous colors of Anzula on their website, and follow them on Instagram, Facebook, and Pinterest.