The drawers and trays in my art studio are brimming with colorful, glimmering treasures. It's a delight just to open them and peek in. Every time I do, I gasp with excitement about all the beautiful potential they contain.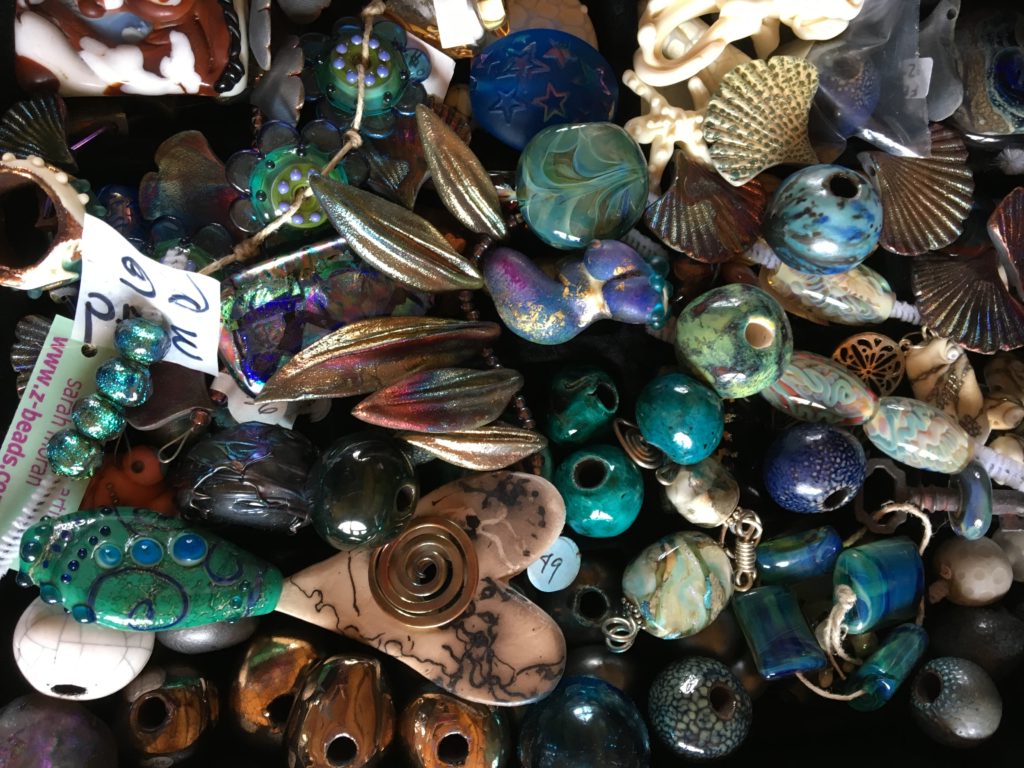 Although my medium is wire, practically every piece I make features exquisite beads. People ask me all the time, Where did you find these?
I'm drawn to the unique and unusual. Original lampwork focal beads made by hand by talented glass artists are my first love. (There are too many to name, but if you follow my work, I always credit the bead makers!) Lampwork beads are heavy and solid, like wearing a sculpture on your body.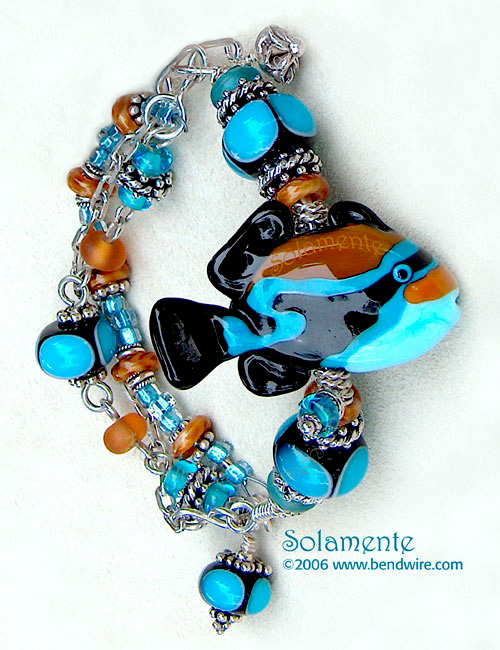 I also adore big, chunky, colorful Lucite beads. While most people shun plastic, Lucite is a really beautiful material that adds a bold brilliance to my work without adding weight.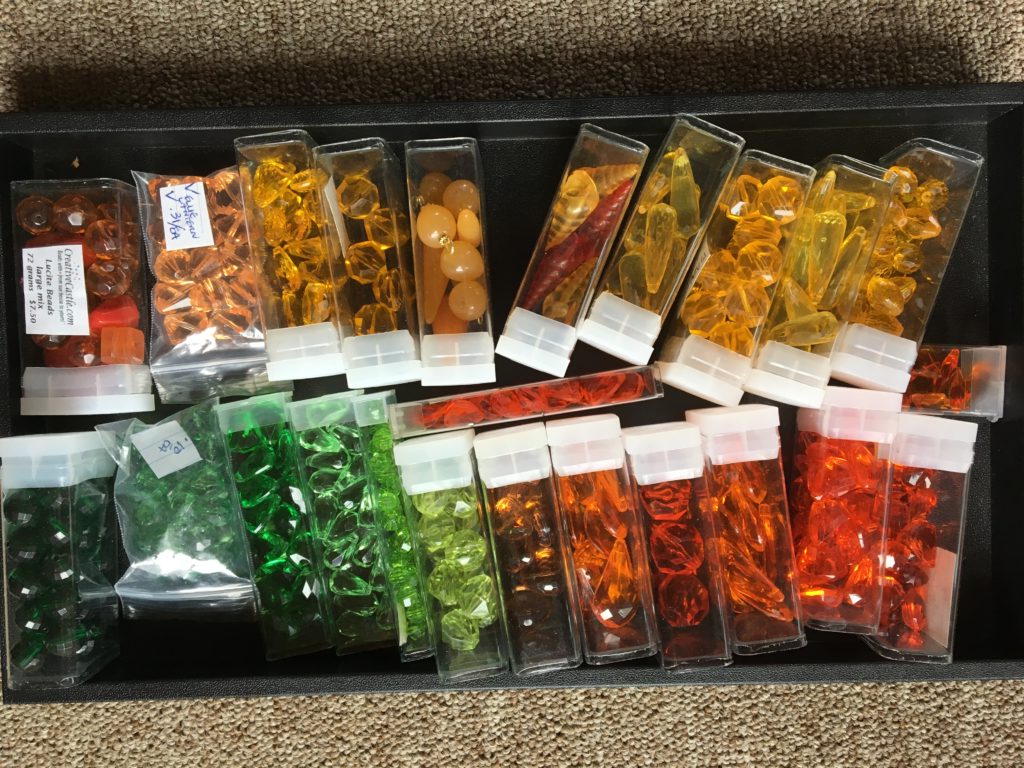 My other favorite material is silver beads by the amazing silver artists in Bali and Thailand. One artist, Niki Passenier, designs the beads herself and has them made in Thailand.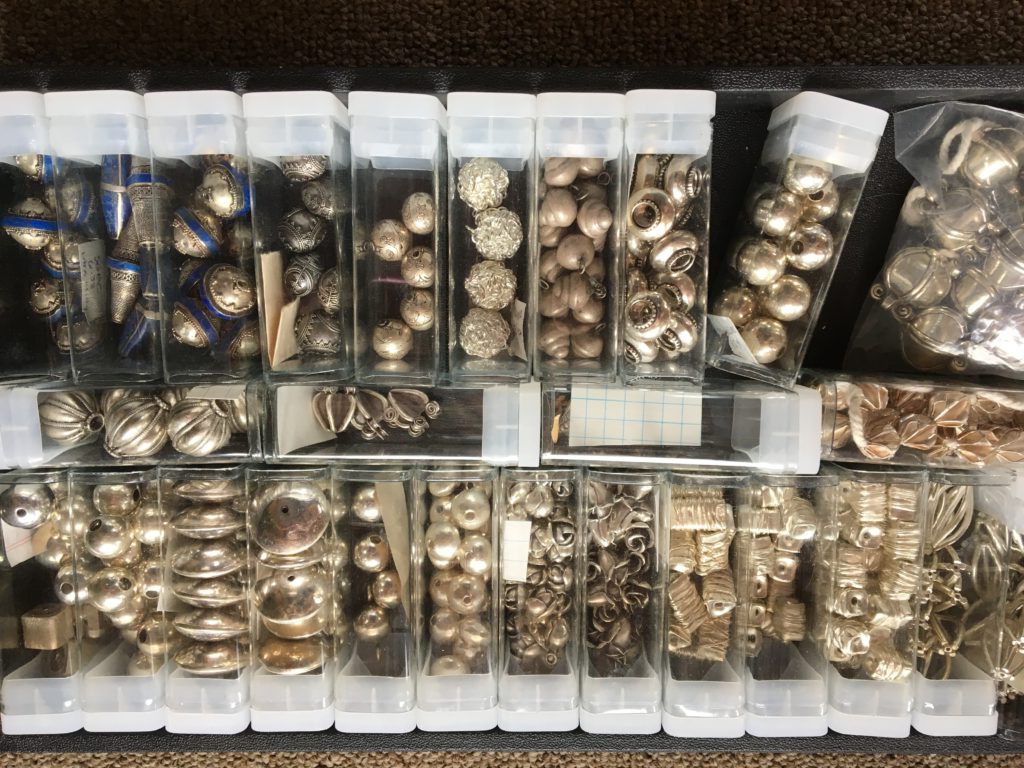 The biggest struggle I have in using those simply gorgeous beads—especially Niki's—it that I love them, and they're not replaceable. Sometimes this makes a bead seem too beautiful to use in a piece. I have to stop and ask myself, "Are you going to save the special thing or are you going to use it?" I have to fight the urge to save them for the most special most right thing.
How I select my beads
I like to look for beads everywhere. My favorite is to go in person to bead shows—BABE in Oakland, Bead & Button (can you say overload?) and locally, Heart of California Bead and Adornment Expo. At events like these, a lot of vendors are represented, and you have have tons of variety to choose from. In person, you can touch the beads and trust your eye.
There are great places to buy beads online, and I use Ebay  for Lucite and vintage and Facebook groups for lampwork (Lampwork Bead Market and Artisans Lampwork, among others). There are some vendors I go back to a lot because I like their aesthetic, selection, or quality (on Ebay I like ellielantern, bykayo). The biggest challenge with buying online is that you have to know your sizes. When you look at big, detailed photos, 6mm is not as big as you'd think. Ask me how I know!
It also helps to have color palettes that I really like and am drawn to, and I tend to buy beads in those shades. My favorite colors are pink and silver. Outside of that, I go in waves and cycles from cool to warm. Outside of the rainbow, I also have a lot of white, milk glass, opalino, clear–all "neutrals" that work well with silver. I'm not big on yellow—the closest I come to it are butter, citrine, cream, and bone—otherwise I stick with oranges and reds. In the photo below, I have collected a coral theme for an upcoming piece.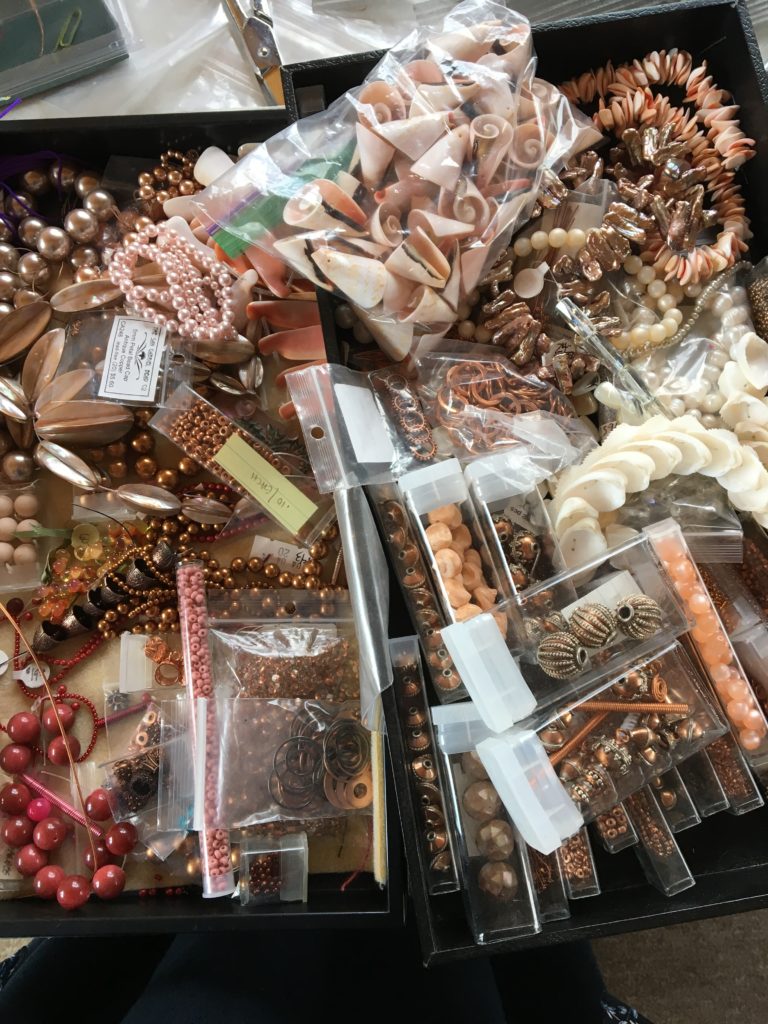 On the whole, I tend to like monochromatic color schemes in my work. A lot of artists use contrasting or complementary colors, but I tend to do sister colors. That's my own aesthetic. In my classes, participants ask me about colors, "Does this work? Is this good?" Sometimes it doesn't and breaks a color rule, but for the most part, it's an Artists Choice moment. Art is subjective. I can tell you what I like, but I can't tell you what you like. That's part of what makes it so fun.
When I select beads, I use a lot of intuition. I like to imagine what they would be when they're in a finished piece. Picturing them with beads I already own also inspires my creativity. Talking about my beads makes me want to get back in the studio!
What do you look for when you're selecting beads or jewelry?