Special occasions bring out the best in me. I love decorating my home for fall and Christmas because of the special-occasion-ness of it and the joy I get from bringing fresh colors into our space. Especially when I'm not creating as much art as I'd like, just working with fresh cut flowers is a great outlet for my creative energy.
This summer, the mom of a dear friend celebrated her 100th birthday. I volunteered to provide the flowers. Contributing to the festivities was so much fun!
You're probably familiar with the gifts and colors associated with wedding anniversaries, but I was surprised to learn that birthdays have them too. Although my friend originally considered blue and yellow, 100th birthdays are connected with white, gold, and black. For this reason, we went with all-white flowers and accents of gold, black, and green.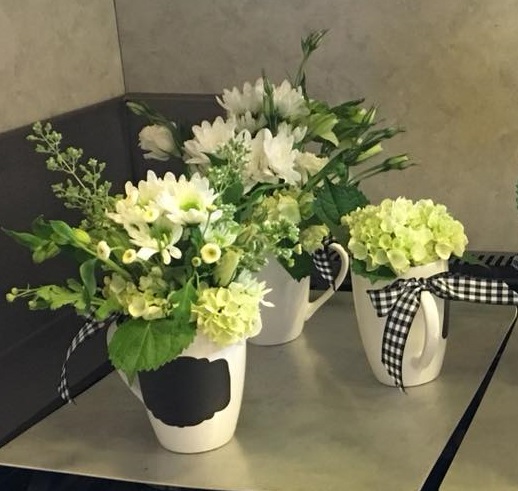 The mugs and black-and-white checked ribbon provided the basic background. Using hydrangea as a base I added lisianthus, alstromeria, mums of various sizes with a few roses and carnations for a festive feel. There were even herbs—oregano and basil from my garden.
I did a lot of hunting to find all the stems—from Von's, Trader Joes, and even a few from Whole Foods. The week before the event, I did a little reconnaissance just to see what was in season and what kind of volume I could find.
The day before, I assembled all the table arrangements and centerpieces.
It's been hot  here in California, so I put everything in our big walk-in to keep things fresh for the event.
Here's the big reveal for the birthday celebration:
Playing with flowers is one of my favorite creative outlets. I really enjoyed contributing to this friend's special day.