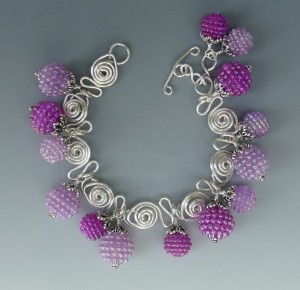 I have a new class coming to
Creative Castle
in May. A substantial bracelet of hand forged links that twine gracefully around your wrist; each embellished with your choice of berry ("cherry" or even flower) beads. You will learn to create a toggle closure with the same wire. The links are made with 16 gauge wire, good practice for working in a bigger gauge.
Creative Castle
is offering this class in a very unique format. First we'll make the bracelet; then we'll spend some time talking about how to take something you learned in a class, develop variations and work it into your creative repetoire. In short, the answer to,
"I've made the project so what else can I do with these skills?"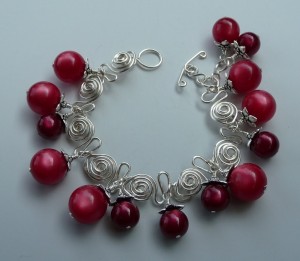 Not in southern California? The class will be offered at BeadFest Portland in September. There we will be doing the basic project version, but I will be sure to show samples of how to use these links in other designs. You can see this bracelet and many of the other great projects that will be offered in the 2 page ad for Bead Fest Portland in the May-June issue Step by Step Beads.