Walking along the beach you find a beautiful shell or rock, it would make the perfect pendant or focal bead. How do you put it on a chain when there is no hole? Rummaging through your stash you come accross a big bead with a poorly drilled hole, you cannot get it oriented to suit your design. The last time you went to an art sale you bought the most beautiful artist marble, you would like to display it, but nothing is working.
To solve your challenges with three dimensional pieces that do not have a hole, I teach a class called Caged. This is a wire wrap technique that enables you to capture the piece in a cage of wire, then create a bail and embellish with wire coils and springs. For an elegant pendant you simply slide it on a chain; for a more complicated design, you can use it as a focal element.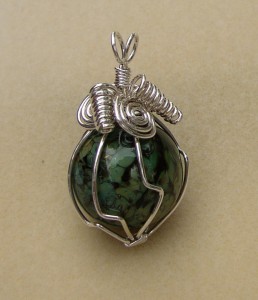 I am teaching this on June 16 at one of my favorite bead stores, Creative Castle If you have not taken a class there yet, let me recommend one. Carole, the stores owner, is a gracious hostess and her store is stocked with a good variety of wire. You can use silver for this project or while you are learning, try the less expensive copper, or art wire.
In this class you will create a finished pendant, or have only a few embellishments left to complete. Instant gratification!