Creatively speaking, this has been a very different year. Many of my creative friends have shared that the sense of concern and isolation has slowed their creative energy.
As much as I wanted to get to my own bench and work with wire, most of my creative energy kept going to my new love: quilting. I decided not to fight it. This year, even with everything going on, I started four quilts and finished two.
I'd love to celebrate with you in photos the various colorful projects I did do, rather than dwell on the untouched wire projects. Enjoy!
The Colorwash Quilt
This quilt style, Colorwash by Wanda Hanson, was a fun color challenge for me on so many levels — and I loved it. The technique is wild! First you lay out the squares to create a gradient like you see on the design board above. It requires using muddy colors I don't usually like, but I love the overall effect of the colors washing together.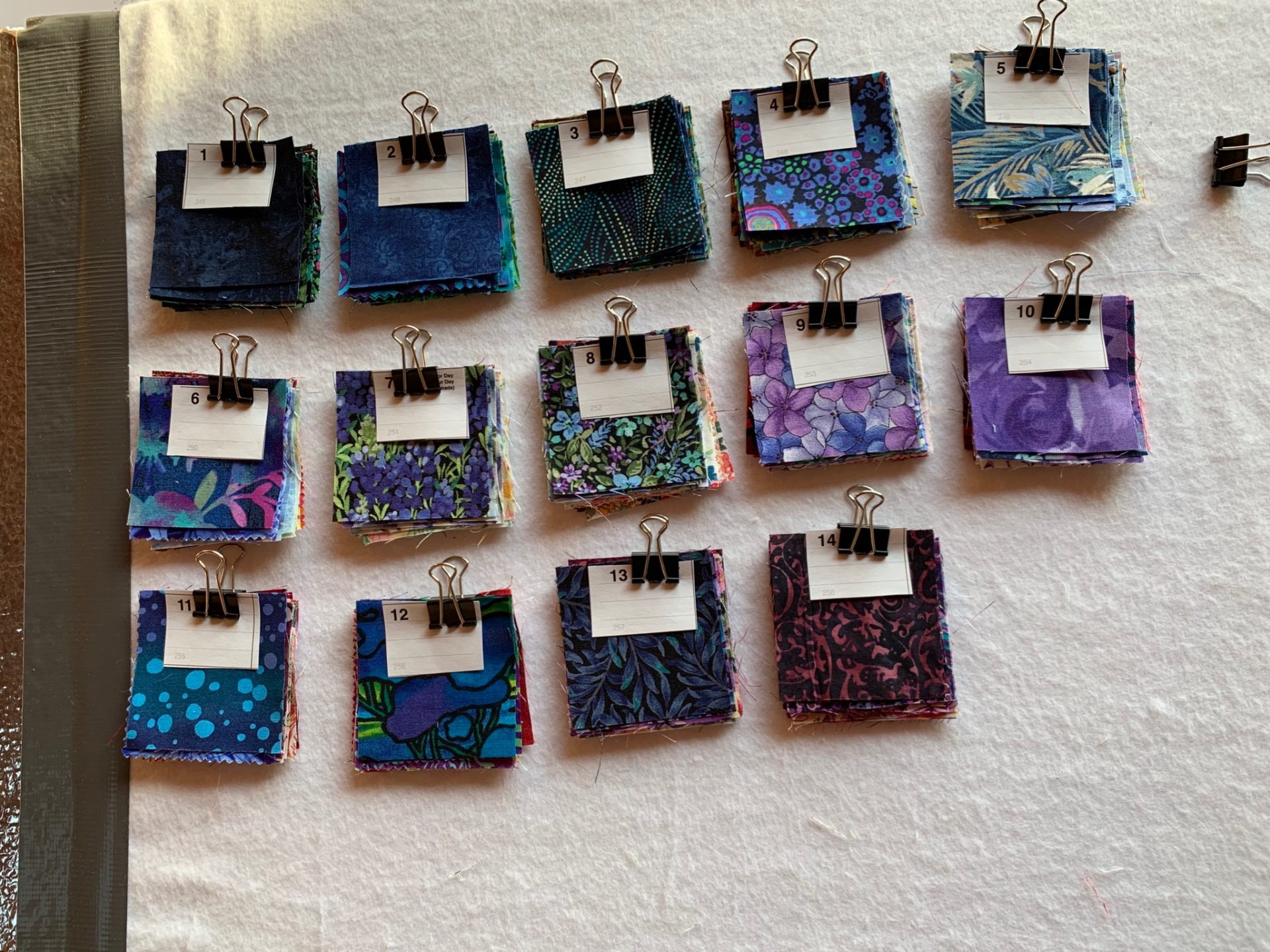 Once I liked the arrangement (you spend a lot of time tweaking, moving the squares until it is just right), the next step was to stack the colors in order and clip them together. The strategy is to sew the color squares together by rows with links of thread to connect them; the ultimate in chained piecing. This is as far as I've taken the project. Since the designer's advice was to do it in one sitting, I am patiently waiting for a free afternoon.
The Christmas Quilt
I made this lap quilt for myself to feel more festive around my favorite time of year. Bonus? It has holiday puns like "fleece Navidad" and "jingle owl the way" because laughter is the best medicine. With the border added, this is nearly done — it just needs binding!
Susan's Quilt
Now that this quilt is in her hands, I can finally share photos without spoiling the surprise! This quilt uses printed fabric featuring birds' nests, eggs, and butterflies. In the middle are panels of complimentary-color, freeform "Melanie style" blocks.
A scrappy quilt
This one is still in the works; it's made from pieces and scraps from another project that had colors I love. My creative question was: How tiny can you go before a piece of fabric becomes unusable? These triangle squares and piano key blocks are making me stretch my imagination!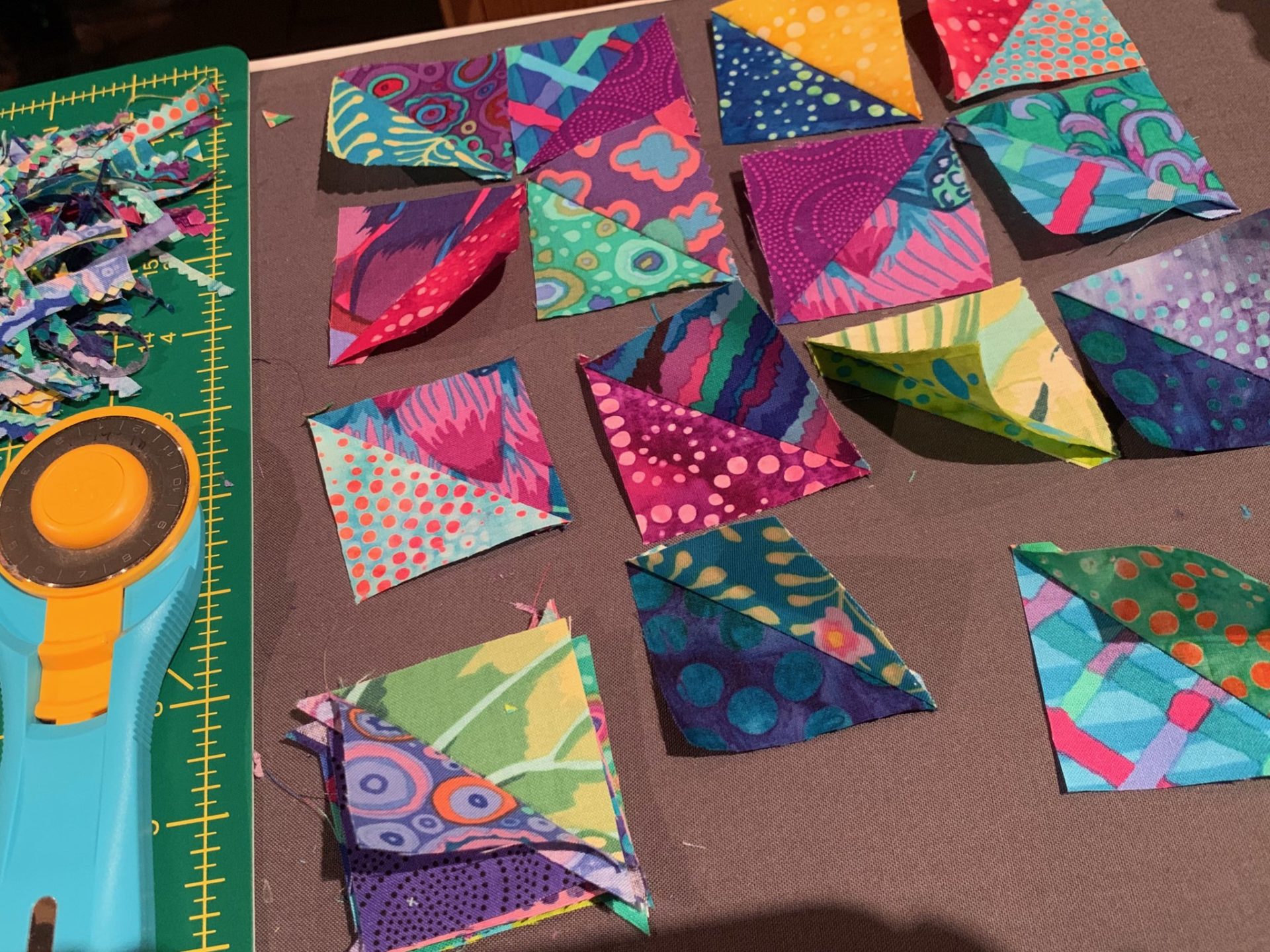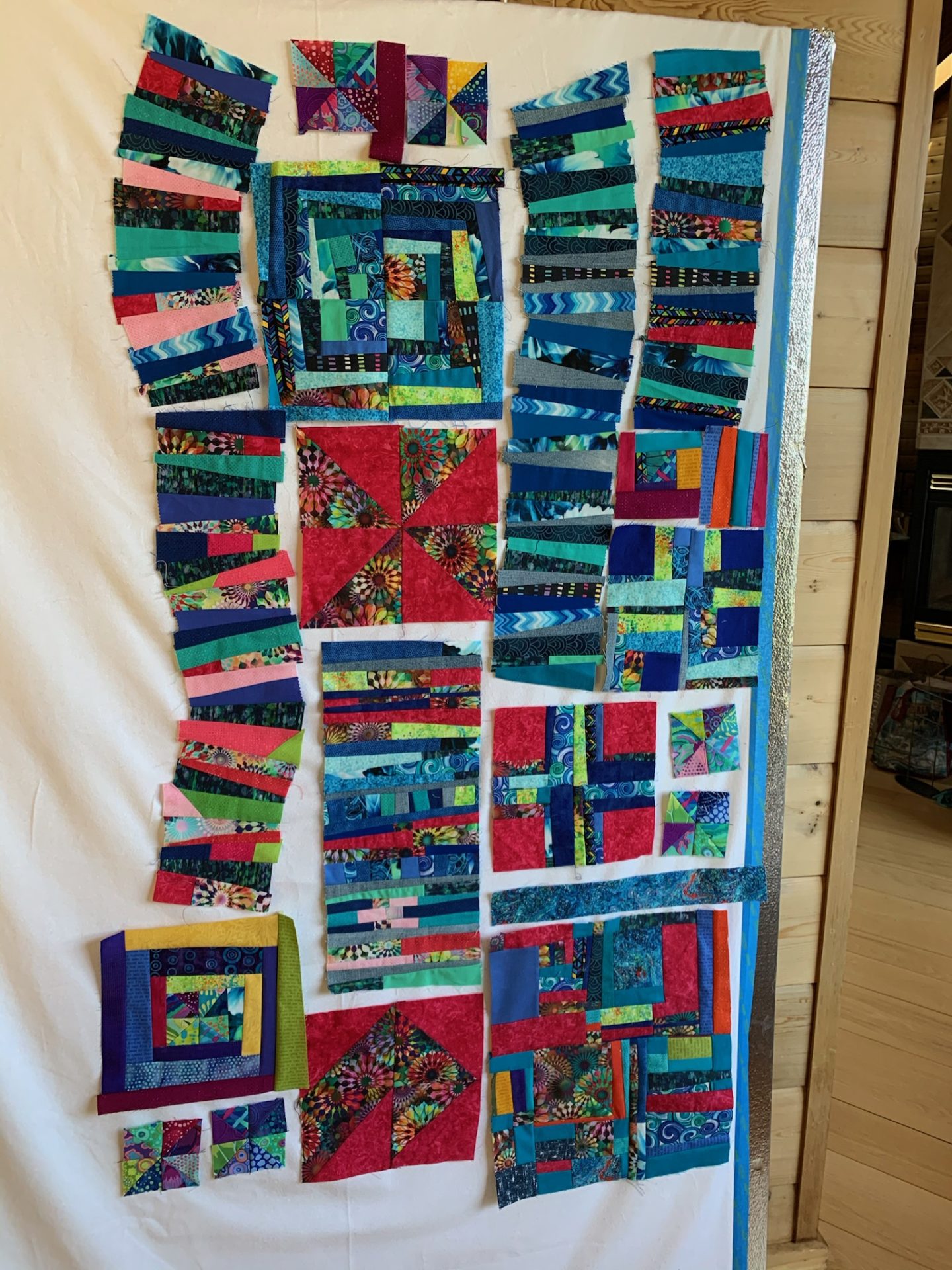 Watercolor Stichin' Therapy Quilt
This is my most recent project and might really be my favorite. Like the Colorwash quilt, the blocks feature color gradients. The Watercolor designs can be found in the artist's generous tutorials on her inspiring blog, stitchintherapy.blogspot.com. The difference is that for this design I can choose colors I love (no need for the muddy ones), and these botanical prints are gorgeous.
There's a system to making the blocks more efficiently too which involves sewing long, narrow strips together and then cutting them into sections.
There's a bit of an art to deciding where to place the fabric in order to get that blended-together look. It's especially challenging because a single print can contain light and dark elements. To test it, I used the black-and-white filter on my camera to see the gradient.
The creative bonus of 2020
With no live shows for artists or the bead community this year, I found myself connecting more with people online in a new way. It has been delightful to get to know some of the bead makers I've collected and highlight their online efforts and shows as well. Steph and Kerri's online show inspired me. I got to chatting with Tammy Mercier — whose animal beads I love — and made a fun connection.
At shows, the focus is usually about seeing it all. This year, I've noticed that I've felt more in touch than I would be at a show — messaging back and forth with people, watching their work develop over the course of the year. Our common interests around art brings us together in this year of connecting electronically.
A surprisingly creative year
Between quilting and encouraging my creative friends, that's where my energy has been, so that is where I went. It has been the kind of year where it's better not to force things and instead follow the creative energy where it leads.
It's not where I expected to go, but I'm really grateful this year has been so rich with connections, blessings, and color. I'm wishing you a serene holiday season and a bright new year!