Big beads deserve a special setting.
Have you ever struggled with setting focal beads? If you're like me, you have at least one large, gorgeous bead tucked away that seems almost to beautiful and precious to use.
The problem with saving those special beads is that they never get the attention they deserve. In this post, I hope to inspire you to finally bring those gorgeous beads into the light by sharing some of the ways to listen to what your bead wants to become.
First, some inspiration!
Setting focal beads can be surprisingly easy when you ask the right questions. Any time I'm about to set a dramatic focal bead, I ask myself What's the theme of this bead? In other words, what do I want to highlight and tell a story about? The bead might have a playful feeling that reminds me of blowing bubbles as a child. That image can inspire lots of creative details and use of color with accent beads and wire embellishments. Start with curiosity.
In the following examples, you can see how each bead inspires the setting and design:
I adore this bead with little birds in a row. I knew that I wanted them to be sitting in a tree, so this inspired the circular, leafy setting around it.
Bead Artist: Jessie Tesolin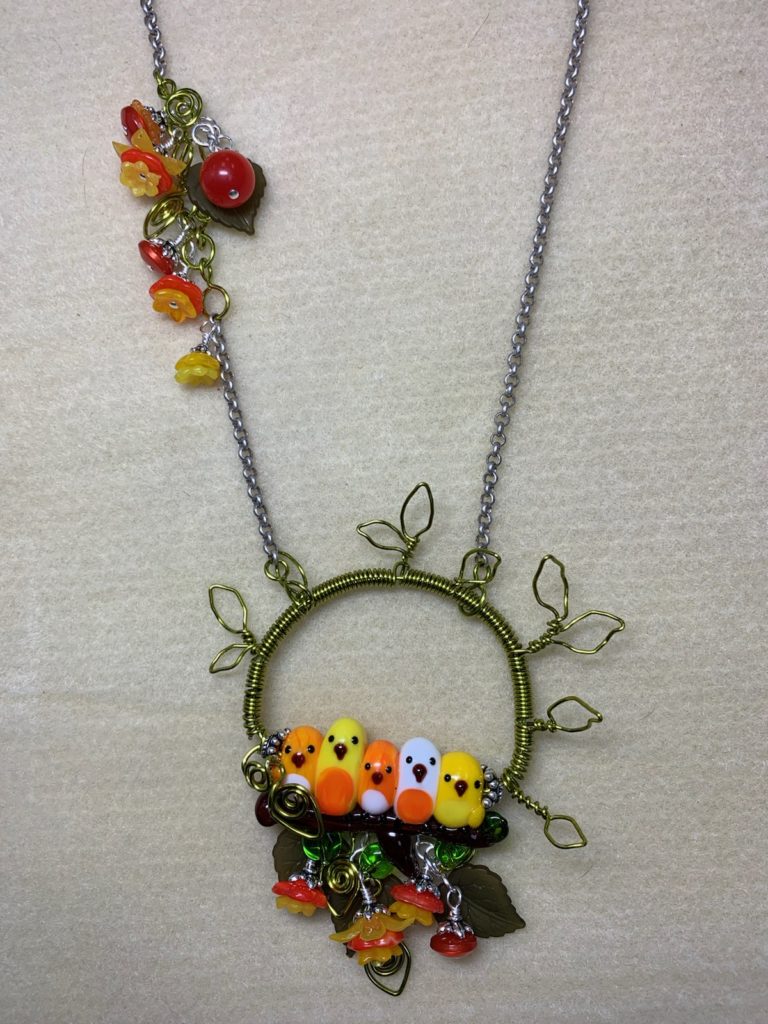 This unicorn bead by Keri Fuhr reminded me of a carousel horse. While I didn't want a literal amusement ride, my thought is a setting of whirls and swirls to convey movement.
Bead Artist: Kerri Fuhr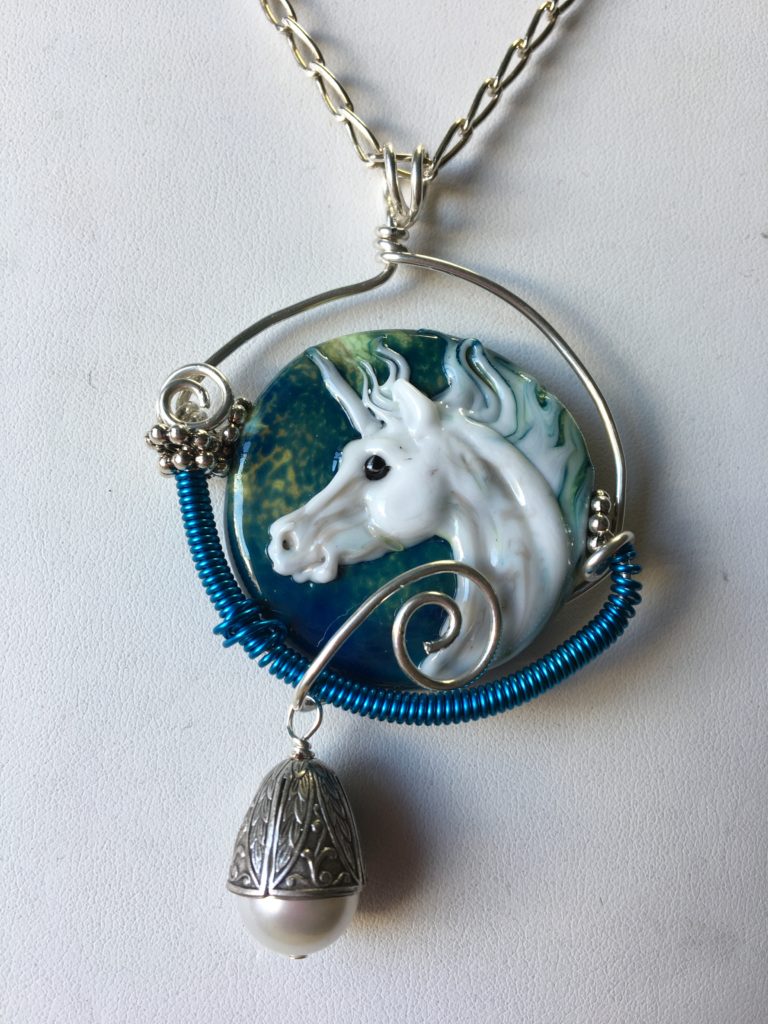 I love dragons, can you tell? This baby dragon has quite a personality and seemed very royal to me. Befitting a prince, I gave him a formal and ornate setting.
Bead Artist: Kerri Fuhr
With this beautiful heron lampwork bead, the place where these birds live inspired a setting that evokes water and reeds. The setting echoes swirls of water and aquatic plants.
Bead Artist: Kerri Fuhr
This stunning collection of focal beads needed a dramatic setting that would highlight their beauty without concealing a single detail. The resulting piece, Breatplate for Ninsun, was an entry for Bead Dreams a few years ago and one of the first times I played with a really special setting.
Bead Artist: Gail Crosman Moore
This is a character bead—almost cartoon-y—and it didn't really need anything fancy. Instead, the setting is made up of just a few accents that pull in the bright ketchup and mustard colors.
Bead Artist: Tammy Mercier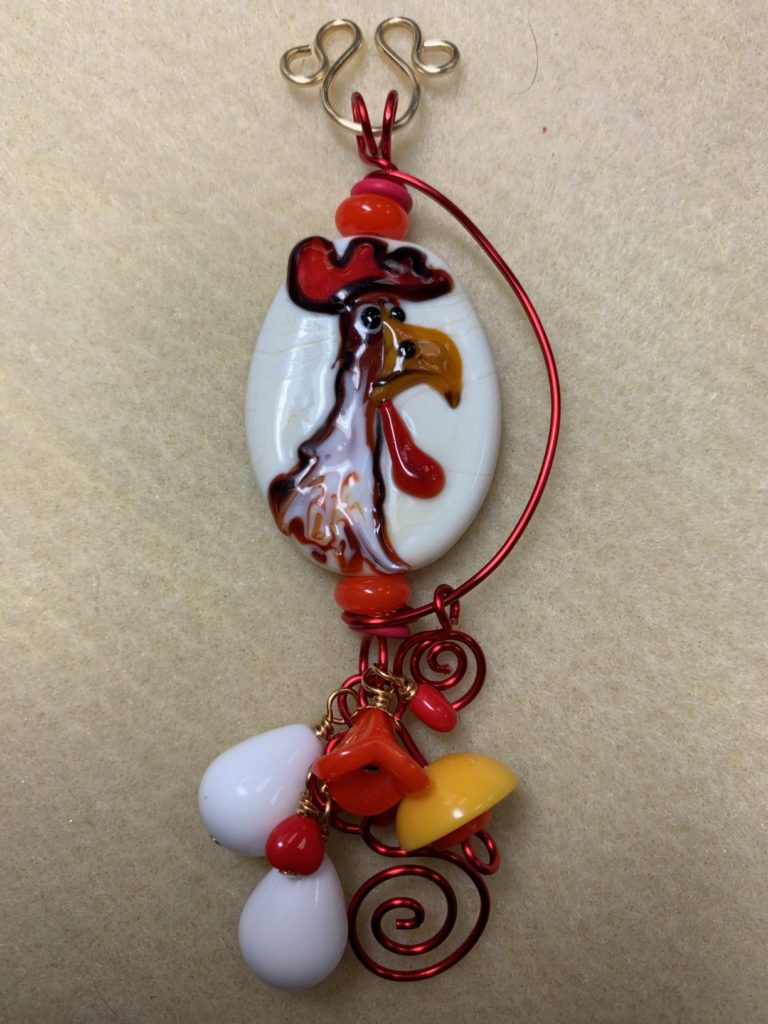 Second, a challenge and a class!
By starting with curiosity, you can create magic. If you struggle with setting focal beads or have a few languishing, I challenge you to spend some time looking at each one to see what themes or stories it brings up. How you would use your artistic skills and techniques to highlight them?
You're invited to try setting focal beads with me! If you're close to California, consider attending my upcoming July class at Creative Castle called Framed: A Dramatic Wire Setting.
In this one-day class, you'll bring a focal bead you love (or buy one there) and learn how to use your skills to highlight its unique-ness and beauty. With my guidance, you'll design a custom setting that frames and really shows off your treasure. I can show you how fun setting focal beads can be! Whether it's stone, pictorial, or beautiful glass, you will end up with a bead that shines—and new confidence to work through your neglected stash.
See full details here!
Give your focal beads some love
Are you ready to be brave and creative setting focal beads? Open up the stash soon and discover how fun it can be to listen to your beads.