Off the charts creativity
2017 was an incredible year for my art, inspired by the many shows where I was invited to participate. The amount of new pieces grew all year. In celebration, I'd love to show them all off here!
In early January, I participated in Madera Circle Gallery show called A New Journey my wire sculpture piece entitled, "Same Ocean, New Tide" otter piece. Little did I know then that this year would have many animals in it!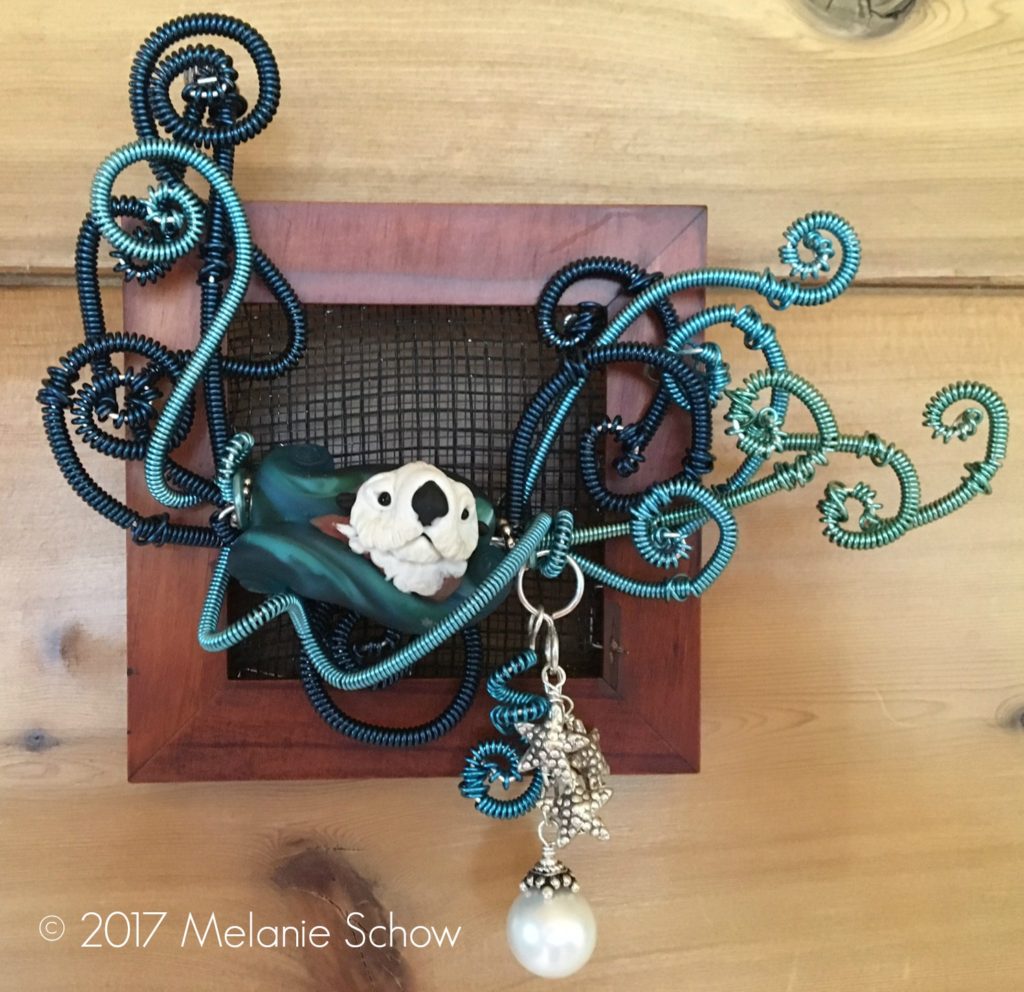 2017 was also the Year of the Tiara. It all started during bloom season with the pink princess party—a fun, playful event at Mixed Messages Gallery in Fresno–making sparkly tiaras on headbands. I loved it! Of all the jewelry I've made over the years, creating crowns and tiaras was a completely new outlet for my wire art and design skills.
This one-off princess project sparked new enthusiasm and creativity. I designed well over a dozen tiaras that honor the many roles that women play in their lives.
My intention was to bring pride, joy, and playfulness to the ordinary, making the wearer feel like the queen of her life. I even submitted a trio of tiaras to Bead and Button.
My tiaras went on tour as I participated in the Circle Gallery's "Reflections" show in March.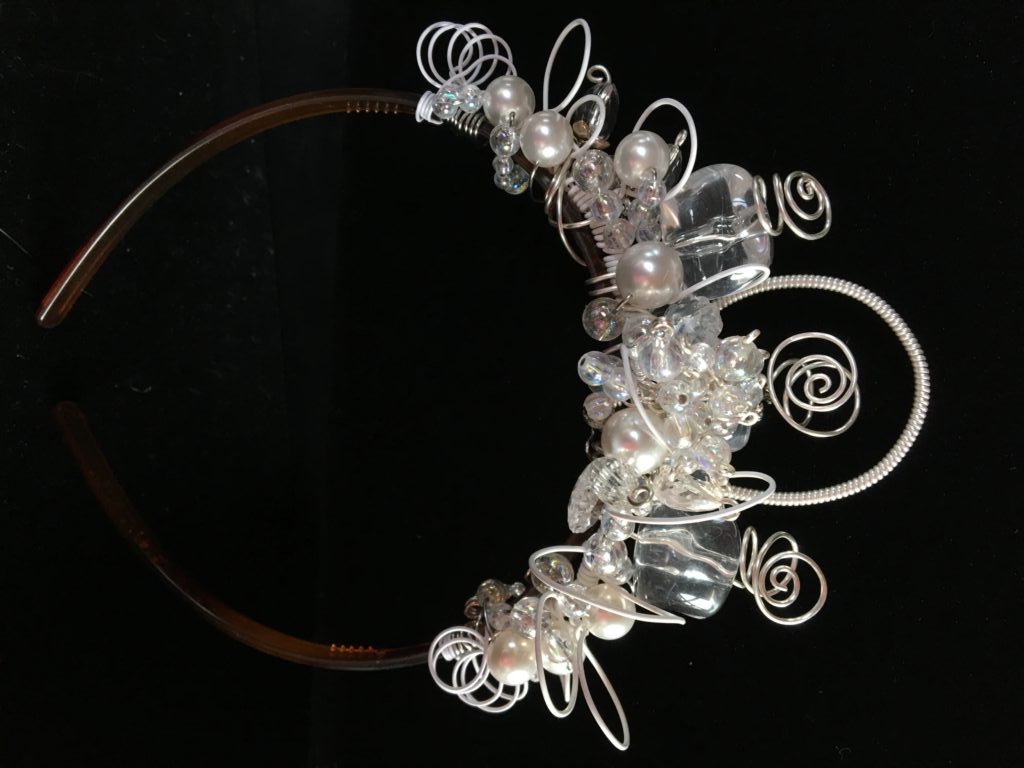 In spring, I participated in Fresno Artist's Gallery show, Bead Dreams, Chris Sorenson's Gallery, Vintage Market at 601, and Mixed Messages Gallery's spring-themed event.
Here's "Golden Microcosm" in the Landscape Show at Sorensen's.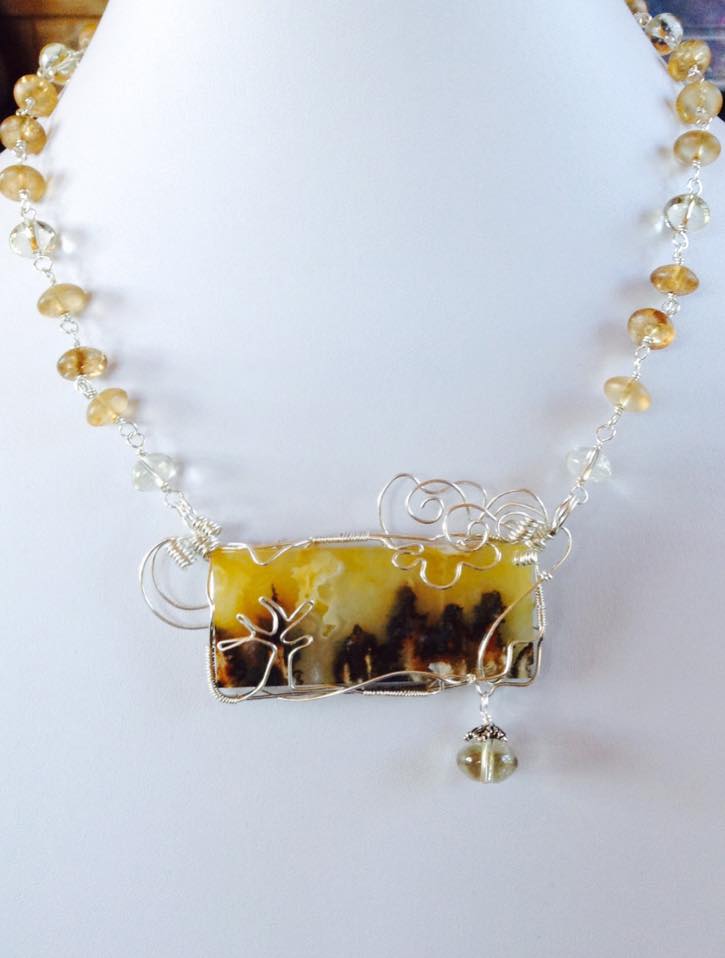 Recognition for my art
One of the stand-out events of the year was receiving Honorable Mention for my submission to the Celebrate Agriculture with the Arts show—and the piece sold too! I really honed new small-wire skills to create this barn structure.
My other huge project was to participate in Mixed Messages' Baker's Dozen show, each artist featuring thirteen original works featuring animals. Because I had a great stash of animal bead options on hand, I produced a lot of new pieces on a very short deadline!
Reflections on the year
From animals to tiaras, shows to events, it's been a year of producing a lot of new work, new skills and connections. Having shows throughout the year helped create a flow of opportunities to make things I won't normally try. I love the challenge and variety!
I feel good about the art I've created and stretching my creativity in new directions. What a blessing it is to do what you love and share it with so many people.
In 2018
With the new year in full swin, I'm thinking about what I hope to create in the months ahead. While the creative muse won't allow you to push her, I am looking forward to several shows to spark more creativity. After 2017's experiences, I have discovered how much I enjoy that regular intensity to inspire me and create new inventory.
Whatever happens in 2018, I'll be sure to share about it here. Feel free to follow me on Facebook where I share lots of photos from shows and works in progress.
Wishing you a happy new year!