Following the creative process
If you're like me, you know that being creative is a mixed blessing. The creative process sometimes takes you to unexpected places both as inspiration and distraction.
You have to follow your enthusiasm and let the creative process work its way with you. In fact, sometimes the most amazing ideas come when you're not expecting them. However, there always seems to be something new and shiny and interesting—SQUIRREL! It grabs your attention away and prevents you from finishing the original project.
The creative muse is a mythical siren, calling you away from completing the last slow steps of that important project. Or at least, that's how things are in my studio!
I thought it would be fun (or a good distraction) to show you what I'm in the process of creating these days.
The quilt class
I knew almost immediately that I was in over my head with the three-month quilt class I'm taking with a friend. We create a new, gorgeous squares every class, but each one is made with zillions smaller pieces – think 2 7/8″ triangles.
The finished quilt will eventually have twelve 12.5″ square pieces plus lots of "low volume" background. I'm just not that diligent! But I signed up and, fortunately, the instructor is really kind and doesn't mind (too much) if I show up without the fabric pre-cut for class.
The other day, I was at sewing at home and got on a really wonderful roll with one square. It started to look like I'd have it finished in time to bring to class. I was so excited, that is, right before my sewing machine jammed on the final seam. Then, when I couldn't fix it, I had to go to class without my good machine. (Note to self: Pay attention to what you sign up for.)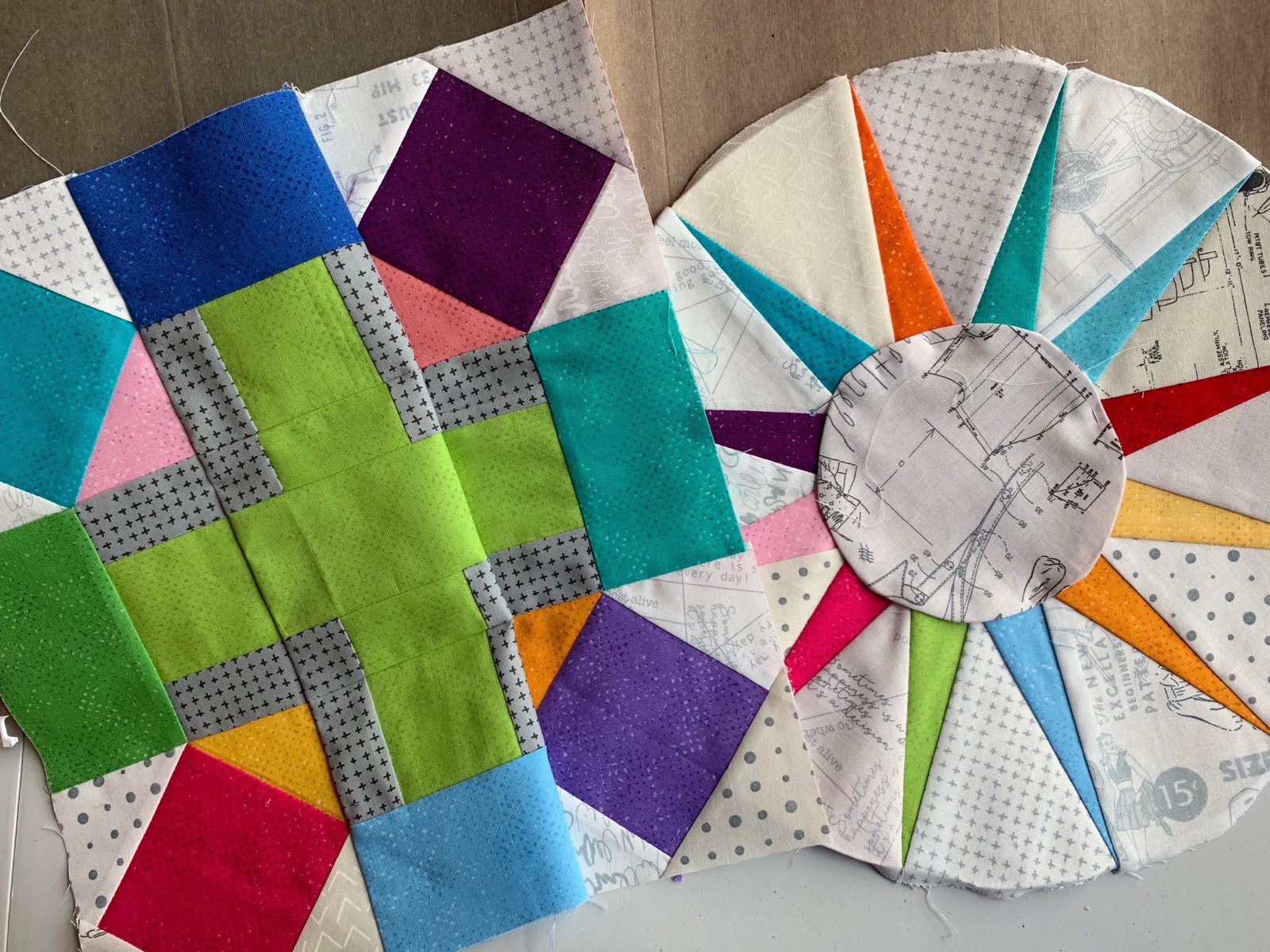 In the process of taking this class, I did make a wonderful discovery: foundation paper piecing. Instead of the normal measuring and cutting fabric with a ruler and cutting mat, this process uses a printed sheet of paper in which you sew simple fabric rectangles on the dotted lines, repeat, and—voilà!—you end up with a gorgeous star! How on earth did someone come up with this? Gorgeous points and perfect stars just by connecting the dots.
Although it may be a SQUIRREL!, I will not let myself feel guilty for deciding that, instead of going on with 40-piece detailed quilt squares, I just want to make squares of New York Beauty (the name of the star pattern) with paper piecing. I am choosing to celebrate the discovery!
Creating new lampwork settings
When you play with wire techniques like I do, you're like the guy who trips and drops his peanut butter in the chocolate. In following the creative process, you make happy discoveries about what works well together, quite unexpectedly.
A while ago, I created new wire fabrication links for a soap-inspired show at Mixed Messages in Sanger, CA. "What would bubbles look like made with wire?" This question led to me creating a tiaras and necklace (sold!) that featured springs with big, wrapped loops and bubbly beads spaced in between. Soapy, bubbly, and fun!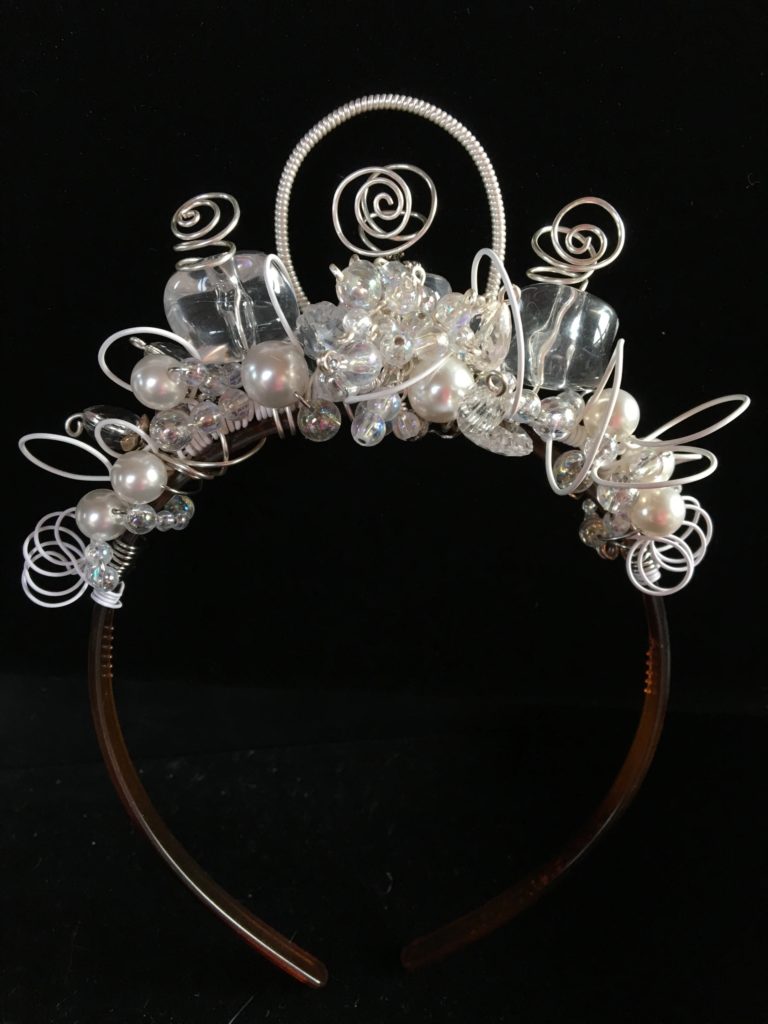 Creating bubbly-movement was an idea, but I wasn't sure it could be used for my other art. It seemed more like a one-time fluffy idea.
However, I was creating a setting for a new class with a pink dragon lampwork bead (more on that later) as the focal . And just then, inspiration struck! I thought it would be interesting to try using the bubbles a completely different way in this new setting. That's so fun for me—to stumble upon a creative connection and see where it leads.
The new class idea is employing all sorts of techniques I have used elsewhere. Last year when I made the wire dog house, I surrounded it with "weeds" to soften and fill in the base. Those same weeds turned into "reeds" on my lampwork heron focal. Once more, an idea used one way was translated to work in another "setting" (jewelry humor—get it?).
Fiber fury
When it comes to art-making, the truth is that most people only show off what works. But I'm happy to show you the realities too. I'm currently knitting something, and I'm hating it. This is also normal in the creative process.
The pattern called for contrasting solid colors which would then be blended to fade from one yarn to another. However, the hand-dyed yarn I chose to work with has a spattery-splotchy treatment that is just not contrasting enough. Not. At. All.
And this is the dilemma: in knitting you usually don't have a feel for how the piece will come out until you're hours and hours in. Unless you've knit it before and know the pattern well (but what's the fun in that?). Every time you cast on, it's a gamble.
Now I'm so far down into the project, it's almost painful to ask myself (but I do), "Am I going to keep going? Or am I gonna rip it?" It's projects like these that make a new SQUIRREL! project so appealing. When I go into my stash, I find half-finished knitting projects like the one in this canvas tote three years later. Perplexed, I wonder, "What is this? What was I doing?" It failed, but I couldn't quite let it go.
The truth of creativity is that not everything you try will work. In fact, it means being willing to try a lot of things that don't work. You have make peace with the process (and possibility of failures) to discover what will work.
There be dragons
Recently, one of my favorite lampwork artists posted a pink dragon for sale or bid online. SQUIRREL! I love Kerri Fhur. I love pink. I love dragons. The creative muse was squealing: I want to play with the pink dragon! "Bid or buy it now? That's gonna go. Buy it now!"
Now that project is on my bench, getting the royal "bubble" treatment before it heads off to be just one of the samples for my next new class.
So that's a glimpse of my creative process lately. Whether your medium is fiber, fabric, paint, or clay, it's good to remember that creating is worthwhile. Even the distractions and mistakes inherent in the creative process teach you something new!