A new wire art class
For the first time in six years, I'm offering a new advanced wire art class! It will feature creative skills for working with wire including bending, embellishing, shaping, adding hanging elements, and balancing a piece. I'm very excited! Here's the first of two samples, this one is in silver: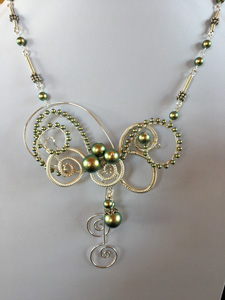 Designing a class is an art
Not surprisingly, the process of designing a class requires creativity too.
The name of the class is Meander. Being a lover of words, the first thing I did was look up the definition and make notes about the descriptive words. This set the tone as I wrote the class description and made a list of materials.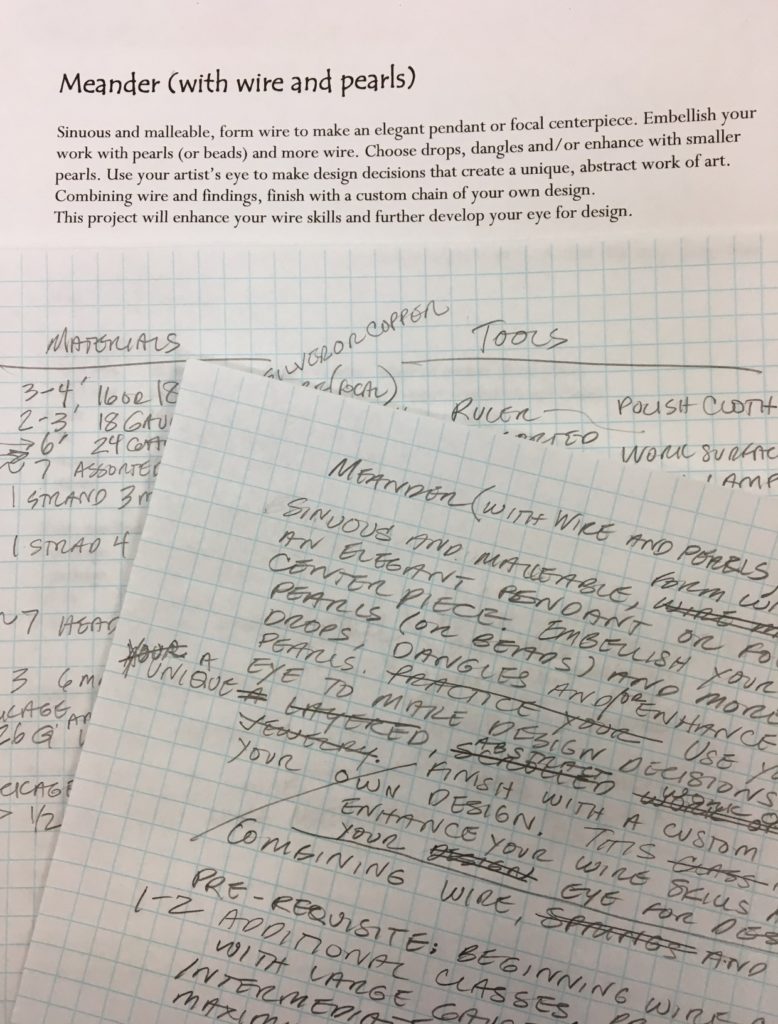 Artists who teach likely have two general strategies for preparing a class–a chicken and egg approach, if you will. The first way is to create a piece with a specific class in mind, taking careful notes along the way, step by step. The other approach is to create a finished piece and then think, "Hey! This would make a great class!" This is more challenging because you must reverse-engineer the creation process from memory so that students have clear instructions.
When I create art pieces, my primary focus is always to ask "is this sturdy and stable?" I hardly ever think about the order I did it in. Fortunately, for the Meander class, I did it the first way and have good notes.
New wire art skills and techniques
In the past, I've taught classes that feature a specific project that participants walk away with. I'm excited that this advanced class focuses exclusively on students pushing the limits of wire, embellishments, and balance. Instead of a carbon-copy, students develop their confidence in creating an original piece using the techniques discussed in the class.
Since I last taught a class, I have learned new skills from the art I've been making. Sometimes wire does unexpected things in the course of producing new work. I am eager to share these discoveries with students. One of the other departures in this class is the option of rhinestones – something sparkly – instead of my more usual pearls or beads (I'm more of a monochrome designer, but hey sparkles, what's not to like?). We'll be playing with curves where you can choose to add rhinestone chain (among other things!).
One of the signs of artistry is being able to develop your own design aesthetic and learn to trust your own sensibilities. This class will be an aesthetic challenge for participants to discover what's pleasing to them. To answer that age-old question: "How do I know when I'm done?" For all these reasons, I can't wait to teach the class in January!
Learn more about my newest wire art class! 
Want to see a second sample piece in copper and read about the class? Visit Creative Castle's website.