I want to tell you about my artist friend and local-art partner in crime, Kathleen Mattox.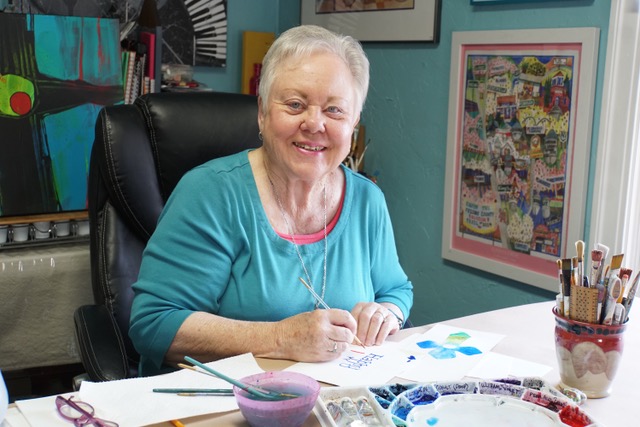 When my husband and I moved to Sanger, I was immediately drawn to her gallery, Mixed Messages Art—a cute brick building in the heart of downtown. Soon, she invited me to show my art jewelry there, and was introducing me to other local artists.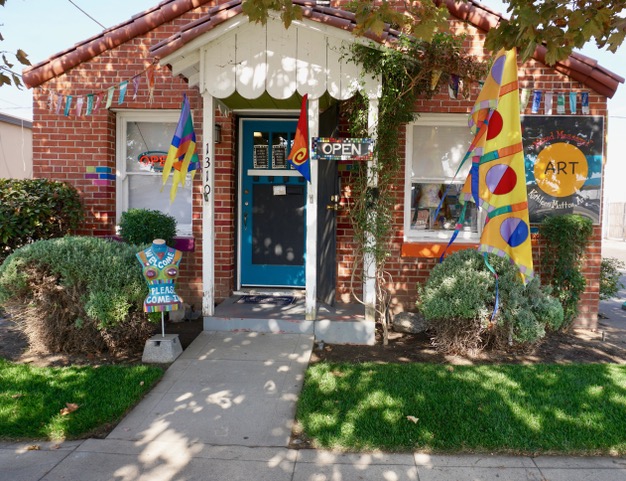 After a retiring from a career in education, Kathleen followed her dream to open this art space in Sanger, California. Mixed Messages Art is a gallery, studio, and website that reflects the variety of mixed media Kathleen uses in her art, including watercolor, paper collage with watercolor, other gel and texture mediums, and acrylic with paper collage.
More than that, the name is a hat tip to her "first career" as an elementary school educator teaching the alphabet and symbols which often appear in her work and acknowledge the power of language.
Mixed Messages carries local art and products that are small enough to fit into the petite gallery—all of them unique and different. Including my art jewelry, nine artists have their work for sale at Mixed Messages including Don Munshower's art mobiles, two ceramic artists—Laura Fraedrich and Karen McQuown, two wire artists—Paul Parichan's heavy-duty wire sculpture and Terrance McArthur's colorful miniature characters, and Mary Lee Otto who makes lovely quilted baby items. Also featured are Basilwood Farm's goat milk soap and Busy Bees Honey Farm's local and infused honey.
As the only painter in the gallery, Kathleen's work is bright, creative, and colorful. Featuring other other artists compliments her work and adds variety and spice to the Gallery.
One of the things I value most about Kathleen is the camaraderie we share. Getting together to brainstorm creative projects or resolve challenges when I get stuck. I think every artist needs a sounding board. When you live in a small community, collaborating with local artists makes such a difference. Kathleen is excellent at setting ambitious creative goals, so I recently sat down with her to talk about her art and goals for 2020.
What have you been creating lately?
Kathleen: I needed to create two paintings for a local show last October, but needed to complete them quickly. I decided to do them using palette knives which I have not used a lot before. In addition to the knives, I used squeeze bottles, texture, thick paint, and some glitter. I had so much fun! I'm going to do more in 2020. For Christmas, my mom gave me some nontraditional palette knives from Italy, and I just got some wood panels to try them out. I had wanted to do more with palette knives, but I didn't know how much I would enjoy it.
What do you like about using palette knives?
Kathleen: They work great for florals. It causes you to work a lot looser and less detailed. Brushes have more control, with palette knives you're creating the detail by pressing, pulling, or lifting.
Where are you showing your art this year?
Kathleen: I have a show coming in March in Fresno. The owner is a teacher of young children and connects with home schooling movement in her studio. I get to fill one and a half walls and plan to feature three abstract pieces. I'll use them for inspiration pairing the paintings with new creations in fabric and calling the show "Re-Energized Through Improv."
I've been sewing and quilting—so I have everything from pillows and table runners to coiled fiber and fabric bowls which all coordinate with the paintings. The great thing about fabric is that you can incorporate so much color and texture. I'm currently looking for far-out and non-traditional ways to hang the fabric pieces with the paintings.
What are your goals 2020?
Kathleen: In addition to everything else, one of my fun goals is to improve my artistic wardrobe. I like to look like an artist, so when I can add a piece or two that looks artsy I get excited. That's one of the things your (Melanie's) jewelry helps me do. What you've made for me is really me, colors and style.
My husband and I also train and show our Havanese dogs. It's a breed that's smart enough to make us think they're really stupid. They're sometimes a little bit ahead of us.
Overall, my goal is to keep learning, researching, and exploring. That kind of mindset is what keeps people young.