A lifetime of cats
Maybe I was destined to choose cats for my art jewelry. Ever since I named my first kitty Lilac Starlight when I was really little, unique cats have been parading through my life with tails held high.
Champ was an orange tabby from the apple farm who got increasingly nicked-up ears earning his street cred after we moved to California.
Bob came to us with a tail that didn't work, but with the care of an attentive vet, regained full use to get into all kinds of mischief.
Young Mr. Puss became an annual fixture in our holiday card when he jumped into a photo his first year with us. Later years he did not volunteer and we had to hold him down for the photo moment with predictable flying fur.
In addition to their unique personalities, most of our cats have gone by two names. Upon their arrival to the ousehold, I'd come up with a moniker I liked. But as the cat grew on my husband, he'd christen it with a second name—the one that usually stuck. So CK became Bob. Bug became Mr. Puss. In any case, they never minded the extra attention.
Not exactly catless today
We have myriad dogs (our own and others') underfoot and farm animals too, but I still love cats. My favorite thing about them is their independence, personality, and character.
Although our household is catless at the moment, I get my feline fix using the hilarious and quirky cat beads created by Kathleen O'Connor in my necklaces and pendants. Each of her characters are hilarious and unique. Like Professor Specs, for example.
And these two purr-fectly innocent (but probably mischievous) Halloween cats.
Can you see how the pink Wicked Witch cat below has a playfully square-kinked tail?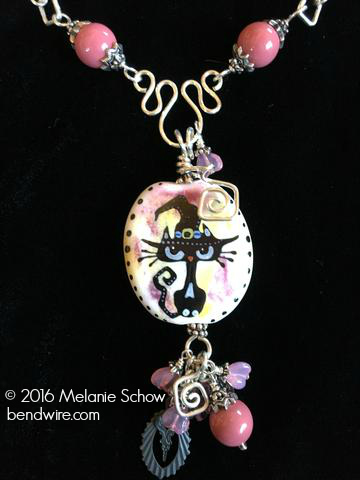 I mirror the same quirky angles in Kathleen's art in my accent wirework and hand-forged links. And just look at those eyes! What personality!
Artistic inspiration
Kathleen is a talented artist and a great person. When I asked her how she makes these glass beads, she explained that she first lampworks the tab bead base, and then paints the scene with very fine ground glass. She sometimes fires the piece several times to add layers of color. It's a complicated and unusual process because lampworkers usually finish a bead and then fire it once.
An exciting announcement
As of this month, my collection of necklaces and pendants featuring Kathleen O'Connor's Scaredy Cats is on my brand new online shop. Even if there's no Lilac Starlight, I hope you'll take a look at all the fun, quirky cats in my life!