Do not pass go
I'll never forget how surprised I was the time I got turned down to show my work because the focal art glass beads in my creation were not my own.
Even though the sting has worn off over the years, this experience gave me an insight into the standards of the art world. Painters don't make their own paint. Sculptors don't quarry their own stone. Similarly, when wire artists use beads, frequently they are not of their own making.
Many artists, many styles
From the very beginning, it was a conscious choice to use others' artist-quality beads in my necklaces, earrings, and sculpture. Here's why: no on can be good at all things.
Instead, my finished pieces are different and unique as Breastplate for Ninsun, the Scaredy Cat collection, and the Morning Song rooster necklace.
What I love best about working with artist-quality beads is the variety. From Joy Munshower's animals and the art glass of Gail Crosman Moore to the whimsical cats of Kathleen O'Connor and Robin Poff's dragons, these gifted makers inspire the art I create.
The art of wire design
When you work with wire as I do, the artistry comes down to creating a beautiful, balanced piece using a variety of elements. Wire artistry entails knowing how many scrolls and coils create a harmonious look and also recognizing the point at which you stop adding.
Using focal beads means understanding color and choosing accent elements that highlight the theme. For example, in my pendant using Kathleen O'Connor's Wicked Witch, I echo the fun, square-kinked tails in the wire scrolls of the drop on this pendant.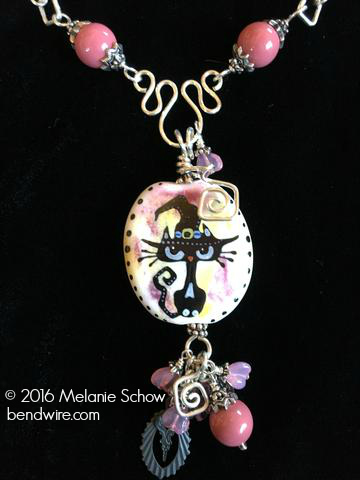 Although I have taken lampwork bead-making classes, it's not my medium. Understanding the kind of work that goes into making fine art glass beads makes me appreciate artists that use this medium even more. If I tried to do it all myself, I'd be a beginner for a long time!
My specialty is in creating a beautiful, well engineered settings with high-end materials and choosing gorgeous color palettes that bring out the uniqueness of the focal beads that are made by other artists and by Mother Nature too.