Lampwork artists work magic with glass and extreme heat. Each bead is a tiny world that draws you in with its graceful, flowing lines. A second look reveals details you didn't notice at first. It doesn't take long to fall under the spell of this magical art form of molten glass and perfect timing.
When I hold an artist's glass bead in my hand and inspect it under my magnifier, it reminds me of my days studying botany. The closer you look, the more you can see the heart and talent of the lampwork artists who create these tiny works of art.
Making jewelry with art glass
Often when I'm looking closely at a lampwork bead, I have a moment of clarity and inspiration: I know what I'm going to make with this! Almost as if the bead is showing me how to turn it into art. Sometimes I notice a subtle color in the background, a cluster of flowers, or waves in the glass as they twist and swirl that speak to me. I follow that. Almost always, you'll see the lampwork themes echoed in the final piece I create.
More of my favorite lampwork glass artists
Continued from the feature in April, I'm delighted to share with you three more of my lampwork artists' inspirations. I collect these creations for my art jewelry (and I sometimes have favorites I don't want to let go of!). I love these artists' creativity, sense of humor, and willingness to stretch outside of their usual genres and experiment.
Please enjoy this picture-filled post of their unique styles and the work they inspire in me!
Kathleen "Kayo" O'Connor
Every one of Kayo's glass beads has character and personality. Her black cats are always making mischief or looking innocent. Her lampwork beads are fun to turn into pendants for colorful whimsey. Here are three of my pieces featuring her work.
Tammy Mercier
One of my favorite things about Tammy Mercier is that she's not afraid to try something new. Her work is inspiring and diverse—from abstract to floral, and from realistic critters to heirloom pieces.
"Free-form horses are the most challenging," she told me. "It's hard to find a place for the hole. And because of the shape of the horse's head and neck, I have to fight the entire time for it not to form a ball." Not surprisingly, each of her whimsical, colorful beads take up to five hours to create.
Melanie's necklace with Tammy's work
This greyhound is one of Tammy's beads, and I just love its character. From the lampwork bead design, I pulled in the rosy pink with pearls that show off this girl's classy side.
Joy Munshower
As an experienced bronze sculptor and ceramicist, the level of detail in Joy's lampwork wildlife beads is stunning. Her Etsy shop is like a walk through the jungle, a swim in the ocean, and a stroll through a pasture full of horses. I marvel at her ability to capture animals' personalities—and even facial expressions—in glass.
Melanie's wire art with Joy's beads
I fell in love with one of Joy's otters, which became the focal piece for my wire art sculpture, Same Ocean, New Tide. I entered it in the Madera Circle Gallery show, A New Journey. Notice how Joy's flowing aqua waves surrounding this playful creature continue into my metal swirls and scrolls.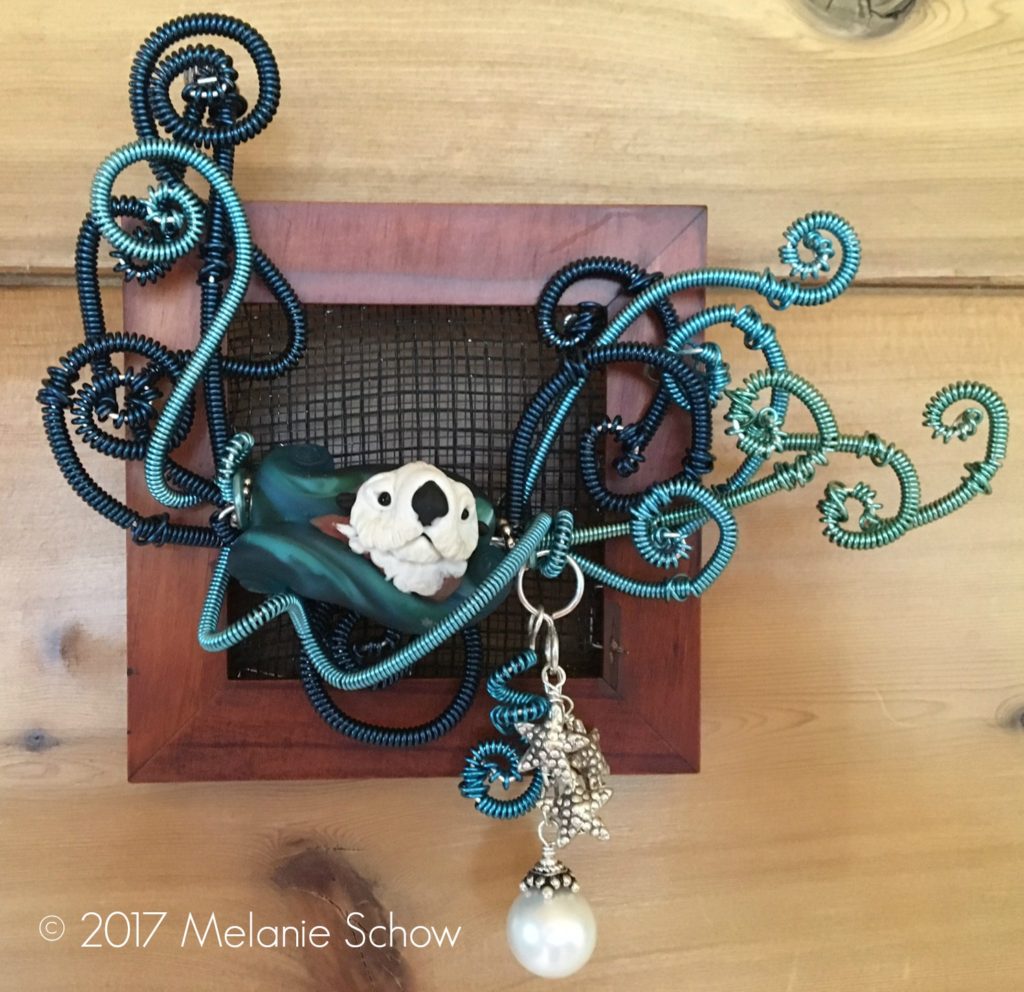 Another of Joy's beads became Morning Song. This handsome rooster anchored one of my first entries in the Madera Art Council's Celebrate Agriculture and the Arts Show in 2015. In wire, I imagined his call spiraling out to greet the morning.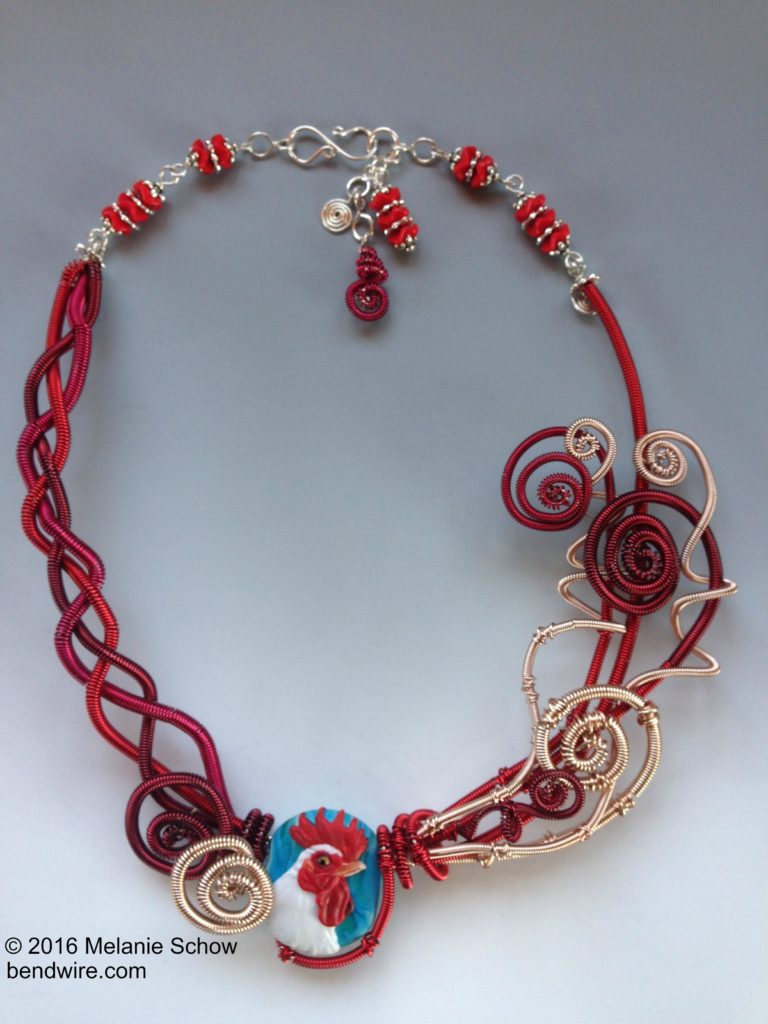 Artists for artists
I love the interplay between these lampwork artists creations and my own. If you enjoy the art you see here, be sure to follow these talented artists' social media accounts and say hi!