If you're like me, you are feeling a bit cooped up and missing the "normal" things we used to do before covid hit.
I've been asking myself lately why not dress up, even if we're all in pandemic pajamas? Though I'm generally camera-shy, this month's post has actual photos of me and some friends creating a little bit of silliness at a time it's most needed.
In the studio
While you are working, why not wear something fun? This blue owl (Kerri Fuhr) lampwork necklace in the background is one of my art jewelry creations. My yellow pendant features a lampwork character bead by Catherine Steele. Tying up the ensemble are artful earrings by Judy Mountain and Wayne Robbins.
At the market
If you aren't wearing your own art jewelry, then collect and wear someone else's. I purchased this piece from Stephanie Dieleman. It looks stunning in the cereal aisle, don't you think? Especially with my farm girl truck mask!
At the bull sale
I love this look—farm clothes, bad hair, don't care! It didn't stop me from wearing my butterfly wing necklace to a recent bull auction (where this bull won an award)! Butterfly wing and accents by Christina Burkhart.
Doing chores
Banish the bathroom-cleaning blues. My friend, Jen, becomes a domestic fairy princess in a tiara I made.
Out and about
Susan looks pretty in purple while waiting to order ice cream. This flower lariat includes lucite beads, silver findings, and silver chain.  [SOLD]
Out for tacos! Even with no one else here, the green butterfly wings fit right in!
Susan in silver, quartz, and hand-carved bone beads – the perfect accessory for furniture shopping.
Or, if you want to get really glammed up, why not just stay home and wear all the sparkly things at once?
Since none of us really knows when the next special occasion will be, don't wait. Take out your finest and wear it now—in your house, while on Zoom, working solo, or running to the store in your mask. Find your best, flashiest, or most outrageous things and throw them on for some fun.
In time for the holidays
Would you like to own something beautiful? I'm putting a few of my pieces up for sale on a limited basis for the holidays. If you see something below that you love, just send me an email (bendwire@aol.com), and I'll arrange to send it to you early next month!
Blue owl: The blue owl lampwork bead is by Kerri Fuhr, accent lampwork beads by Cathy Milligan with colored art wire, Bali silver beads and handmade sterling silver chain. $475 plus shipping
Vintage gold: The center piece is an intact vintage brooch with frosted carved glass and rhinestones. Accent beads include carved citrine, lucite, and citrine all on gold color art wire.  $285 plus shipping
Holiday charm: I love these lampwork character beads by Catherine Steele. Who doesn't love a chicken in a Santa hat? Your choice $59 each plus shipping.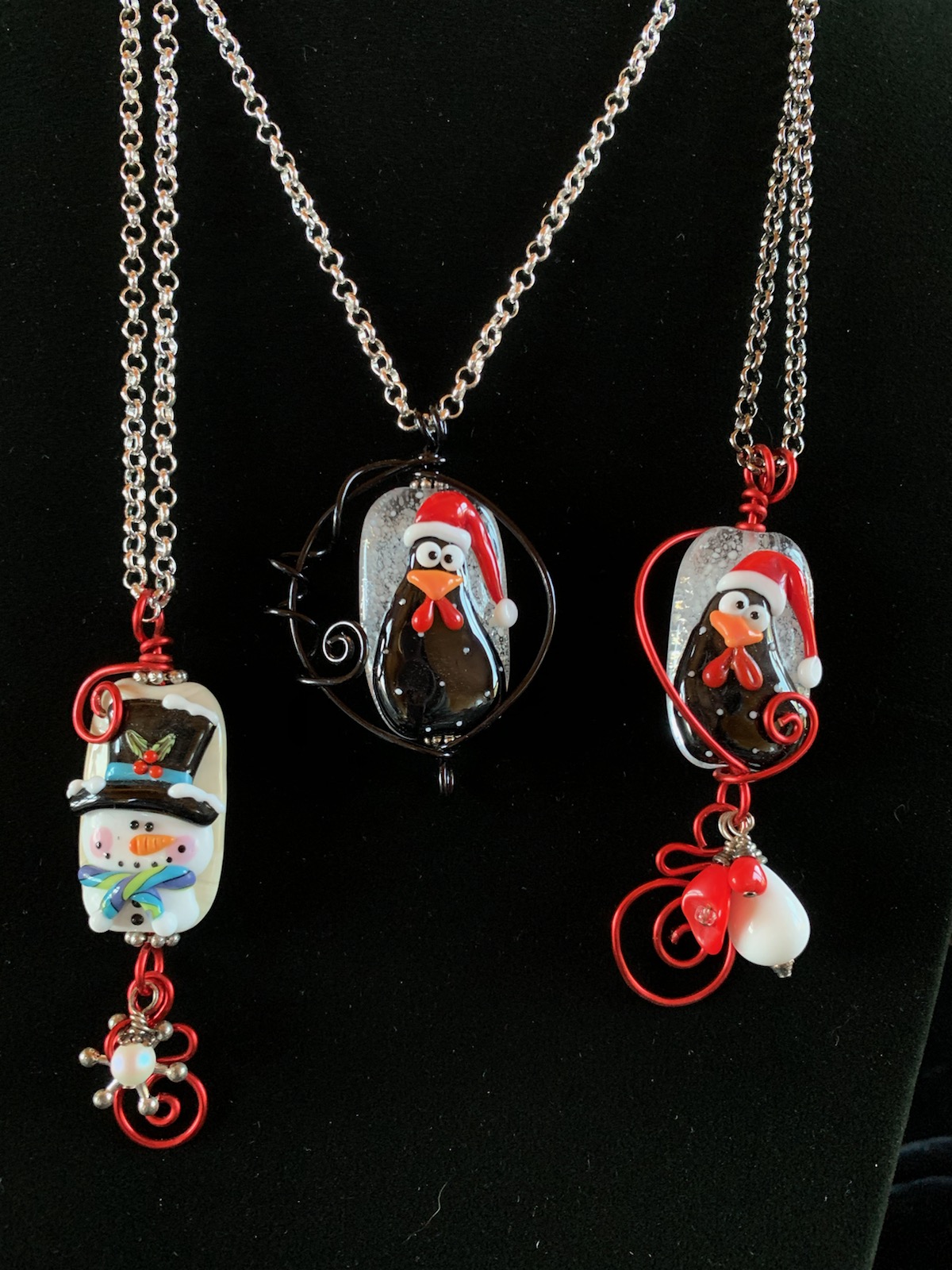 Breastplate for Ninsun: For more than a year, I thought this gorgeous necklace had been accidentally taken after displaying it at an art show (remember those)? It appeared again while I was cleaning and would love to see it get a new home. Lampwork beads by Gail Crossman Moore, focal set with hand forged sterling silver wire, Bali silver beads, and handmade sterling chain. Price on request.
Even though these times are a challenge, you can bring beauty and play to almost any situation. I dare you! Wear something fancy just for fun and send me YOUR dressed up selfie!